#VotePlanet: Trees 'key to combatting climate change'
23 November 2019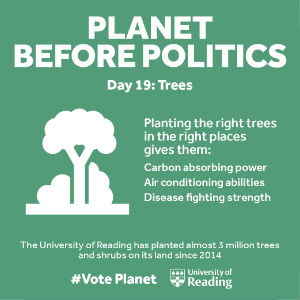 Day 19: Trees
While research into trees at the University of Reading is helping fight obvious threats like diseases, it has also unearthed some more surprising ways trees benefit the environment.
Studies have shown trees can act as air conditioners for office blocks, as well as removing carbon dioxide that contributes to climate change.
However, deforestation and natural problems are reducing their power to help the planet. Reading research is looking at how trees can be more resilient to these threats in a future climate, and the different ways in which they benefit the planet.
Dr Tijana Blanusa, horticultural expert at the University of Reading and Principal Horticultural Scientist at the Royal Horticultural Society, said: "Trees are key to combatting climate change because they not only help us cope with impacts like rising temperatures but also remove carbon dioxide that is one of the causes of these problems.
"Planting new trees is good, but it will never be as good as not cutting them down in the first place. Deforestation has an immediate impact on wildlife and the planet's ability to store carbon, while saplings planted to offset this are often less effective, require lots of maintenance and can introduce diseases."
The UK Climate Change Risk Assessment 2017 identified the important role urban trees can play in reducing overheating, from individual office blocks to entire cities. Almost three million trees and shrubs have been planted on University of Reading land since 2014.
A project involving Dr Stefan Smith, a Reading lecturer in Energy Systems in the Built Environment, found last year that trees can act as air conditioning for nearby offices as they humidify and cool the air around them. The study found that air conditioned buildings in London saved energy when they had trees in close proximity.
The Reading-led PuRpOsE project saw scientists from a number of institutions look at ways to combat risks facing the UK's two native oak trees. It produced a number of recommendations, including planting more hardy foreign species of oak in the UK.
Research conducted by PhD student Oliver Wilson with colleagues in Brazil looked at how Brazil's iconic Araucaria tree is threatened by extinction due to deforestation, and how it could be saved. The Dominica Cocoa Project, involving Reading's Professor Carol Wagstaff, is supporting cocoa farmers in the Caribbean island produce quality crops that are resilient to biological and climate challenges.
Reading research also supports efforts to protect the UK's trees from pests and diseases, with Professor Michael Shaw appointed by the UK environment secretary as part of a task force of experts following the ash dieback crisis in 2013.
#VotePlanet
The University of Reading has launched its #VotePlanet campaign as a countdown to the General Election on December 12. This is highlighting the biggest threats facing the UK and global environment, as well as how research and action can combat them.
Public concern for the environment has increased significantly in recent years, with political parties unveiling various eco-friendly pledges in their election manifestos.
The #VotePlanet campaign therefore aims to inform voters on the science behind these issues, and what sustainability action it is taking as an institution.
Follow the campaign on Twitter, Facebook and Instagram, and on the University news page. Get involved and share your examples of sustainable action using the hashtag #VotePlanet.