#VotePlanet: Fighting wildfires globally before they even begin
24 November 2019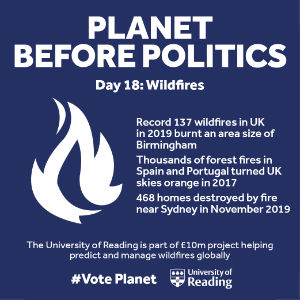 Day 18: Wildfires
The University of Reading is playing a leading role in reducing the devastating impact wildfires have on the environment and society.
Only earlier this month, New South Wales in Australia was engulfed by hundreds of fires in areas of woodland due to hot and dry conditions, with the smoke causing severe air pollution in Sydney.
A £10m research centre involving a leading Reading scientist is seeking to improve how wildfires globally are predicted and managed. This adds to other environmental research at the University looking at the causes and impacts of extreme weather that leads to natural disasters like these.
The Leverhulme Centre for Wildfires, Environment and Society was launched in January, funded by the Leverhulme Trust, and is the world's first research centre addressing wildfires from a global perspective.
Over 10 years, it is combining environmental and social scientists to understand the factors that cause and influence wildfires as well as providing guidance on how they should be managed in the future.
Wildfires have affected Canada, California, Greece, Spain and Portugal in recent years, to name but a few. However, they do have some positive impacts on the environment by recycling nutrients and creating fertile ground. Part of the centre's research will be to study how fire is used in some parts of the world for agricultural management.
#VotePlanet
The University of Reading has launched its #VotePlanet campaign, highlighting the biggest threats facing the UK and global environment, as well as how research and action can combat them. The campaign is covering one issue a day as a countdown to the General Election on December 12.
Public concern for the environment has increased significantly in recent years, with political parties unveiling various eco-friendly pledges in their election manifestos.
The #VotePlanet campaign therefore aims to inform voters on the science behind these issues, and what sustainability action it is taking as an institution.
Follow the campaign on Twitter, Facebook and Instagram, and on the University news page. Get involved and share your examples of sustainable action using the hashtag #VotePlanet.