#VotePlanet: Air pollution endangering human health, now and in the future
26 November 2019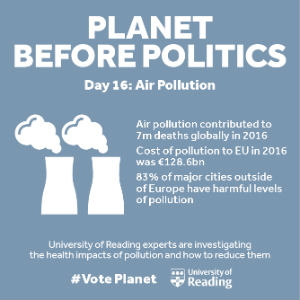 Current air pollution levels are putting human health and the future of the planet in danger, according to the latest science.
Carbon dioxide emissions from human activity contributes to a build-up of greenhouse gases in Earth's atmosphere, preventing heat from escaping and gradually raising global temperatures.
The concentration of these gases in the atmosphere rose to record levels in 2018, according to the World Meteorological Organization.
Dr Laura Wilcox, NCAS scientist at the University of Reading, said: "Continuing to emit greenhouse gases at current levels risks dangerous levels of climate change, and associated impacts on human health, so we must find alternatives. The planet will keep on trucking but it won't be such a nice place to live.
"Air pollution contributes to climate change and its impacts will themselves be worsened by the changing climate. It is a complex problem, but science is allowing us to better understand it and provide solutions."
The most recent Lancet Countdown report, published on November 14, stated that a child born today would face a world on average 4C warmer by the time they were 71. Professor Elizabeth Robinson, environmental economist at the University of Reading, co-ordinated the first working group of the report which addresses the exposure and vulnerability of people to climate change.
Emissions from vehicles and other sources in towns and cities also expose pedestrians to poisonous gases. These emissions are sometimes visibly obvious when smog builds up over cities, but are harmful even when invisible.
Air pollution in the atmosphere also has a temporary cooling effect on Earth, reflecting sunlight back into space before it dissipates. The risk of a short-term spike in global warming if emissions were cut dramatically to stay within the 1.5C temperature rise target imposed by the Paris Agreement is the subject of ongoing research by Dr Wilcox and colleagues.
A recent study co-authored by Reading climate scientist Professor Bill Collins found the environmental benefits of shifting from coal to gas as a fuel source would not be accompanied by a host of associated risks and issues as previously feared.
Other research by Reading scientists, in collaboration with international partners, has helped to understand the contribution of methane to global warming. An earlier Reading study showed methane emissions from human activity could be having an even greater effect on the climate than previously thought.
#VotePlanet
Pollution is among many issues being explored in the University of Reading's #VotePlanet campaign. The campaign is highlighting the biggest threats facing the UK and global environment, as well as how research and action can combat them, in the lead up to the General Election on December 12.
Public concern for the environment has increased significantly in recent years, with political parties unveiling various eco-friendly pledges in their election manifestos.
The #VotePlanet campaign therefore aims to inform voters on the science behind these issues, and what sustainability action it is taking as an institution.
Follow the campaign on Twitter, Facebook and Instagram, and on the University news page. Get involved and share your examples of sustainable action using the hashtag #VotePlanet.