#VotePlanet: Smarter travel could help fight climate change
27 November 2019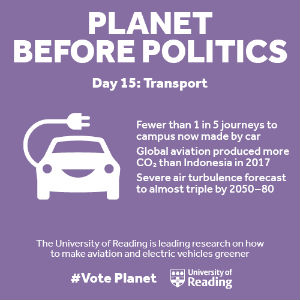 Changing the way we travel on the roads, rivers and even in the skies could aid efforts to reduce the impacts of climate change.
Experts at the University of Reading are investigating how altering when people charge their electric cars could make them even kinder to the environment.
Other studies are revealing the impact of climate change on travellers. Airline passengers, for example, face a bumpier ride in future due to severe clear-air turbulence becoming up to three times more common in some regions of the world.
Professor Paul Williams, atmospheric scientist at the University of Reading, said: "It's well established that emissions from aircraft and other vehicles contribute to climate change, but our research is showing that climate change is having quite an impact on transport too.
"At Reading, we are working with the aviation industry to forecast how turbulence will become a bigger problem for flights in future decades but also how the sector can make changes to reduce its carbon dioxide emissions."
Professor Williams has conducted extensive research into how climate change will increase the amount of wind shear at cruising altitudes, putting flights at increased risk of encountering severe clear-air turbulence. This causes hundreds of injuries to passengers and cabin crew every year.
Ongoing research is also investigating how airlines could alter their flight paths to take advantage of favourable winds, thereby reducing fuel consumption.
Reading is leading studies into how low-carbon technologies like electric cars are impacting power networks. This includes developing energy storage solutions and investigating how changing the time of day or night people charge their cars can actively support the power grid in adopting more renewable energy generation.
Dr Phil Coker and Dr Ben Potter, in the School of the Built Environment, are working on the UKRI-funded Centre for Research into Energy Demand Solutions. Their work is helping energy companies, including National Grid, respond to emerging challenges and supports the innovative CrowdCharge business, which helps electric vehicle owners to share energy to charge their vehicles in a greener way.
Reading is also home to urban planning research that includes investigating how changing the layout of bicycle or bus lanes in cities or altering when certain transport can use the roads could have a positive impact on health.
One element of the Reading 2050 project is looking at how the town's rivers could be better utilised for transport links, as a means of lessening the strain on road and rail networks.
Initiatives aimed at encouraging staff and students to find alternative ways to travel to campus have resulted in fewer than one in five students and staff travelling to campus by car – down from one in four in 2012. The number of students and staff travelling by bus has also doubled during this period, while more than half walk to campus.
Reading academics regularly consider the most eco-friendly transport option when travelling to conferences and events in the UK and overseas. Some recent examples include:
Professor Richard Allan (Meteorology) travelled to Lisbon by train rather than plane earlier this month to lead the University of Reading contribution to the EU INDECIS project, which is providing climate change impact information to those most affected
Professor Tom Oliver is taking the Eurostar to Brussels for the European Commission launch of the report 'The European environment – state and outlook (SOER) 2020' and to attend a high-level workshop 'From knowledge to action: SOER 2020 and the European green deal'
Dr Hannah Bloomfield (Meteorology) took the train to Paris for a workshop to avoid flying this month
#VotePlanet
The University of Reading's #VotePlanet campaign is highlighting the biggest threats facing the UK and global environment, as well as how research and action can combat them, in the lead up to the General Election on December 12.
Public concern for the environment has increased significantly in recent years, with political parties unveiling various eco-friendly pledges in their election manifestos.
The #VotePlanet campaign therefore aims to inform voters on the science behind these issues, and what sustainability action it is taking as an institution.
Follow the campaign on Twitter, Facebook and Instagram, and on the University news page. Get involved and share your examples of sustainable action using the hashtag #VotePlanet.