Reading in the News - Weds 27 Nov
27 November 2019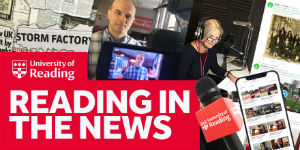 Climate Crisis: PhD student Simon Lee (Met) spoke to BBC Radio 1 about a UN report on climate change, which suggests that the crisis is worsening.
De La Rue Collapse: Professor Brian Scott-Quinn (ICMA) spoke to BBC Radio Berkshire about the future of troubled banknote producer De La Rue, which faces a possible collapse.
Soil-first farming: Professor Chris Collins (Geography & Environmental Studies) is quoted in an article by Farmers' Weekly about the failure by politicians to legislate for soil protection, which has led to degradation through erosion, compaction and loss of soil carbon.
Other coverage
Business Daily runs an article about Henley Business School's plans to deepen its presence in Nigeria.
World Economic Forum shares an article by Miriam Marra, originally published by The Conversation, on the benefits of a four-day working week.
The University is mentioned in a run-down by Simple News and UCU of universities where strike action is taking place. Berkshire Live also covers news of the strikes at a local level.
Environment Guru runs a story about a University report which suggests weather in Malaysia can provide early forecasts for the UK. Read our story here.
NUS shares an article on balancing work and study, featuring comments by Consumer Behaviour & Marketing student Catlin Edwards and Campus Jobs Manager Jay Russell.
Details of the Nancy Astor train naming ceremony, which takes place at London Paddington tomorrow, are covered by Reading.co.uk.