#VotePlanet: Green development a springboard for global economic growth
28 November 2019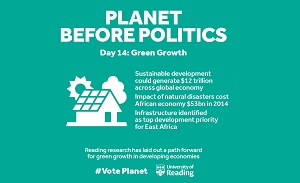 An increase in green development worldwide would not only be good for the environment but could help developing economies achieve rapid growth, according to Reading research.
Infrastructural development has been identified as a priority need in regions like East Africa. Researchers at the University of Reading argue that integrating green schemes early in the economic growth of these regions would allow them to leapfrog more developed economies by accelerating their growth.
Professor Chuks Okereke, visiting professor of Environment and Development at the University of Reading, said: "Infrastructure like roads, power stations and water supply in many countries around the world is not adequate for their populations and requires urgent upgrades. However, this problem can be turned into an opportunity in some cases.
"Countries seeking economic growth are often in the useful position where green technologies can be incorporated into this growth from the very start, rather than needing to replace existing infrastructure and systems at great cost and difficulty. These countries have a blank canvas for green development."
The University of Reading led a team of international researchers who in 2018 presented a framework for assessing and green growth governance in Africa.
The Governing Inclusive Green Growth in Africa (GIGGA) Network, led by Professor Okereke, advised that strong leadership, incentives and penalties, increased green innovation research at African universities, and an inclusive approach that benefits the poorest communities were needed to achieve sustainable economic growth.
The Reading Centre for Climate and Justice also seeks to support countries around the world who are most threatened by climate change despite contributing the least to it. This includes helping to integrate solutions that make them more resilient to climate change now and in the future.
It is also assessing whether new green technologies like geoengineering might harm some communities instead while benefitting others.
#VotePlanet
The University of Reading's #VotePlanet campaign is highlighting the biggest threats facing the UK and global environment, as well as how research and action can combat them, in the lead up to the General Election on December 12.
Public concern for the environment has increased significantly in recent years, with political parties unveiling various eco-friendly pledges in their election manifestos.
The #VotePlanet campaign therefore aims to inform voters on the science behind these issues, and what sustainability action it is taking as an institution.
Follow the campaign on Twitter, Facebook and Instagram, and on the University news page. Get involved and share your examples of sustainable action using the hashtag #VotePlanet.