#VotePlanet: Threatened British wildlife supported by latest science
29 November 2019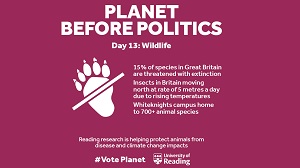 British wildlife species are being threatened or even driven to extinction by climate change, land use changes and other environmental pressures.
The 2019 State of Nature Partnership report stated that 15% of species are now threatened with extinction in the UK, while 41% have seen their populations decrease since 1970.
Research at the University of Reading has been monitoring how threats like climate change are contributing to this decline, monitoring habitat loss and identifying action that can be taken to protect struggling wildlife.
Professor Tom Oliver, who leads the University of Reading's Ecology and Evolution research division, said: "Nature in the UK is changing before our very eyes. A warming world opens doors for some species to move into new areas, while closing the door on others – possibly forever.
"Scientific research helps provide a clear picture of how wildlife is being affected by natural and man-made pressures, and how it is adapting. Understanding these challenges is vital if we are to take action to protect species or avoid behaviour that is harming them."
Professor Oliver, who works with Defra to turn science into policy, has looked closely at how insects and birds have been displaced in the UK by a combination of a changing climate and intensive land use.
His research, in partnership with organisations like Natural England and Centre for Ecology and Hydrology, warns that without sufficient natural habitat, much-loved species like the northern brown argus butterfly and willow tit could be lost from many areas of the UK.
A more recent study of millions of recorded insect sightings also showed species moving north as temperatures in the UK increase are running out of suitable habitats due to land being used intensively for agriculture.
Research led by Professor Mark Fellowes found that rare red kites were becoming more widespread thanks to residents in towns and cities putting out food in their gardens. An additional study found that bird lovers who feed smaller birds during breeding season may inadvertently be putting them at risk of having their nests raided by grey squirrels.
Reading research involving citizen scientists found this year that adders were in decline and could disappear from the UK countryside by 2032 due to human activity. This has worrying implications for other species that rely on similar habitats.
A Reading PhD student's study of rural habitats found in 2018 that 80% of the sites surveyed were unsuitable for hedgehogs, and that badgers may also absent from large parts of England and Wales. Another PhD project looked at elephant conservation in Africa and how they can exist alongside humans.
#VotePlanet
The University of Reading's #VotePlanet campaign is highlighting the biggest threats facing the UK and global environment, as well as how research and action can combat them, in the lead up to the General Election on December 12.
Public concern for the environment has increased significantly in recent years, with political parties unveiling various eco-friendly pledges in their election manifestos.
The #VotePlanet campaign therefore aims to inform voters on the science behind these issues, and what sustainability action it is taking as an institution.
Follow the campaign on Twitter, Facebook and Instagram, and on the University news page. Get involved and share your examples of sustainable action using the hashtag #VotePlanet.