River research 'needs boost to protect UK homes'
02 October 2019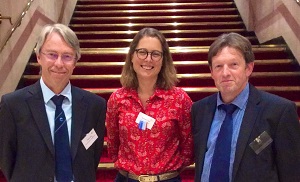 Floods are the biggest natural hazard facing Britain, yet UK science still has much to learn about how rivers actually work, an award-winning hydrologist has said.
Hannah Cloke, professor of hydrology at the University of Reading, made the comments after being awarded the British Hydrology Society's President's Prize on Tuesday 1 October.
The society awards the prize every two years for the leading scientific work on hydrology in Britain, for a formative paper, report or work which has 'advanced hydrology significantly'. Professor Cloke picked up her award as more than 200 flood warnings and alerts were issued across England this week, and the Isle of Man witnessed severe flooding.
Professor Cloke said: "I am extremely honoured to receive the British Hydrological Society's President's Prize. It is wonderful to be asked to talk at the society about our NERC-funded research into improving flood forecasting and preparedness.
"British hydrologists are among the best in the world. They need to be, given that flood risk is one of the biggest natural hazards facing people in the UK.
"Yet with climate change increasing the risk of floods in Britain, there is still much to learn about how water interacts with the landscape. There are fundamental aspects of how rivers work that we still don't understand.
"For people to better prepare their homes and families against expensive and damaging floods, we will need to see some serious investment in both our infrastructure and the science of hydrology."
Professor Cloke has advised the UK government and international aid agencies on flood forecasting. In 2019 her advice helped to direct disaster relief to flood-ravaged communities in Mozambique; in the UK, she advised emergency services to allow people in Whaley Bridge, Derbyshire, to return to their homes after floodwater damaged the Toddbrook Dam.
She was awarded an OBE in June 2019 in recognition of her work on flood forecasting.