Reading in the news: Fri 4 Oct
04 October 2019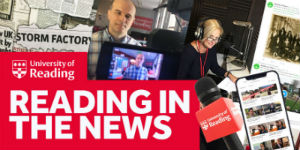 Building design: Professor Derek Clements-Croome (Built Environment) writes for Times Higher Education (and in print) on optimal building design for learning and working.
Robo-weedkiller: Farming UK and Farming.co.uk reports on a trial of a weed killing robot, carried out by the University of Reading, and quotes PhD student Nikolaos Koukiasas (Agriculture).
Blueberries and mood: Research by Professor Claire Williams (Psychology) showing blueberries can boost mood is covered on several German websites, including Haz.de and in Nutra Ingredients.
Other News:
IEEE Spectrum quotes Professor Slawomir Nasuto (Cybernetics) on how computers are being developed to respond to human emotions.
The Reading Chronicle reports in a cricket column on the University's plans to create a 3G sports pitch.
Forces.net mentions the Region 6 War Room bunker on the University's campus in a feature on bunkers that still exist for various purposes.