Reading in the news - Mon 7 Oct
07 October 2019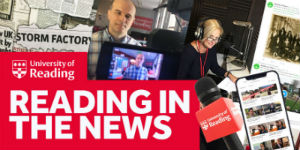 Extreme weather: Professor Hannah Cloke (GES and Meteorology) is quoted by Huffington Post and Yahoo News on the record-breaking weather seen in 2019 and how it relates to climate change.
Khashoggi murder: France 24 interviewed Dr Dina Rezk (History) on the anniversary of the murder of Saudi journalist Jamal Khashoggi and criticism of Crown Prince Mohammad Bin Salman.
Superfoods: The Mail on Sunday quotes Professor Gunter Kuhnle (Food and Nutritional Sciences) on the truth behind superfood claims around blueberries.
Head lice treatment: The Sun quotes Dr Alejandra Perotti (Biological Sciences) from her article for The Conversation on treating head lice. Read the original article in full here.
Academic freedom: The Sunday Times quotes Professor Rosa Freedman (School of Law) on academic freedom and feeling safe on campus.
Other coverage
Brazilian TV channel RPC TV - Globo interviewed PhD student Oliver Wilson (GES) about the threat of extinction to the country's distinctive Araucaria tree due to climate change. Read his article on The Conversation.
TICbeat republishes an article for The Conversation by Anupam Nanda (REP) on effective urban planning. Read the full article here.
Forrester quotes Lisanne Bainbridge (Psychology), who worked at the University in 1983, on the dangers associated with developing robots to carry out tasks for humans.