Reading in the news - Tue 8 Oct
08 October 2019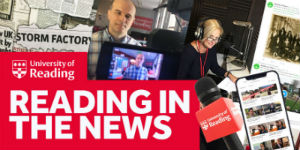 Sound waves: The Guardian picks up a blog by Dr Javier Amezcua (Meteorology) on how sound is distorted by obstacles like crosswinds. Read the original blog here.
Four-day week: An article by Professor Anupam Nanda (Henley Business School) for The Conversation on the environmental impact of a four-day week was reproduced by Yahoo. Read Henley's news story about the four-day week here.
Inquest: The Reading Chronicle and Get Reading report on the inquest of student Stylianos Ktistakis.
Academic freedom: The Telegraph interviews Professor Rosa Freedman (School of Law) about academic freedom and opposition to her research.
Other coverage