Reading in the news - Fri 11 Oct
11 October 2019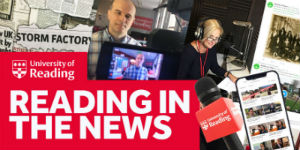 Snack on the go: Prof Ian Givens (IFHN) is quoted in the Telegraph about how banning snacking on public transport may have contributed to obesity in the UK.
Stirling prize: Dezeen have published a comment piece by PhD researcher and noted architect Piers Taylor about the awarding of the Stirling Prize for an environmentally friendly social housing scheme.
Japanese Typhoon: Visiting professor of Meteorology and CEO of the Royal Met Society Liz Bentley spoke to BBC 5 Live about a 'super typhoon' due to hit Japan.
Other coverage:
Archaeology.com report on the dig at Lyminge in Kent, and quotes Dr Gabor Thomas (Archaeology) who led the work.
An article about workplace tech and mental health for Verdict notes a UoR report on an "always on" mentality that is linked to smartphones.
Cyprus Mail reports on record recruitment of Cypriot students to UoR.
An article on Islamic finance and banking notes that UoR provides a degree course in the subject, in Pakistan Observer.
Pest Magazine have a feature on rodenticide resistance written by Claire Jones and Montse Talavera (Biological Sciences).
<!--[if !supportLists]-->