Graduate's embroidered story of homelessness shortlisted for art prize
11 October 2019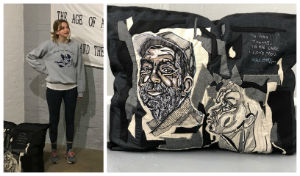 A University of Reading Art graduate's final degree project exploring her uncle's struggles with homelessness has seen her shortlisted for a regional prize.
Amy Richardson's Fine Art degree show project, entitled There's nothin' soft about hard times, was a series of nine embroidered cushions telling her uncle's story of sleeping on the streets and the issues that led to this.
After being part of the University's Fine Art Degree Show in 2019, the project was chosen by Modern Art Oxford as one of 23 solo exhibitions at well-known public galleries for the Platform Graduate Award 2019. The annual initiative promotes emerging artists from universities across the south east of England.
She is now in the running for the overall award alongside three other graduate artists. The prize is a year of professional support and a £2,000 bursary to fund future work.
Find our more about Fine Art at Reading >>>
Amy said: "The display of soft domestic items, floral printed cardboard tiles and a political banner produces conflicting feelings of comfort and discomfort and creates an appropriately confusing space indicative of the statelessness felt by people who are homeless.
"My work encourages the audience to move beyond the immediate prettiness that may be most alluring and instead be witness to the veracity of the messages contained within the work that makes a personal plea for change."
Amy's artistic piece used the intricate practice of textile embroidery to highlight the value of marginalised individuals in society and the social and political issues they face. It tells the story of her uncle's battles with learning difficulties, mental health and addiction, and the negative attitudes towards him that contributed to the situation.
Her solo exhibition ran from 19-29 September at the influential contemporary art organisation in Oxford city centre. She developed the exhibition and held a public presentation about her work on 28 September.
Read more about the exhibition in the gallery programme >>>
The Platform Graduate Award was launched in 2012 and is led by Contemporary Visual Arts Network (CVAN) South East in partnership with four galleries in the south east. Each gallery selects an artist featured in university graduate shows at the University of Reading, University of Oxford and Oxford Brookes University to exhibit.
The winner of the overall award is due to be announced on 23 November.
Jo Bushnell, Deputy Chair of CVAN South East, said: "At a time when our region's exemplary art and design HE institutions face pressures of finance and national policy, it is also important to restate the contribution they make to our thriving sector."
Find out more about Amy's artwork and themes in her blog >>>