Reading in the news - Tue 15 Oct
15 October 2019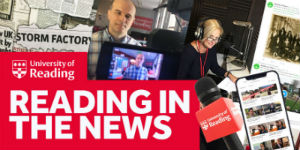 #PlanetPartners: An EU-funded project involving Professor Sue Grimmond (Meteorology) investigating how cities and their populations interact with their immediate climates is covered by Mirage News and Research in Germany. Read our news story here.
We are highlighting Reading's global collaborations that benefit the planet all this week. Read our news story on the campaign.
New flu jab: Daily Mail quotes Professor Ian Jones (Biomedical Sciences) on a new flu jab made in dog's kidneys.
Other coverage
The Express mentions Commons Speaker John Bercow's visit to the University of Reading, where he told students he voted Remain in the EU referendum, in a story on claims Bercow has called for a written constitution in Britain.