#PlanetPartners: Major malnutrition risk due to climate change
16 October 2019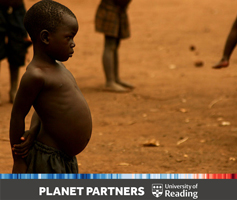 Global partnership crucial to address health effects of rising temperatures

Governments around the world are already having to contend with the health implications of increasingly frequent and extreme heatwaves and potential malnutrition caused by food shortages, and this will only get worse unless urgent action is taken to address climate change, warns a University of Reading professor.

Ahead of a public lecture on Climate Change: turning up the heat on our health, Professor Elizabeth Robinson from the University of Reading warns that, without substantial efforts to reduce emissions, global temperature rise and extreme weather events are likely to lead to health and humanitarian crises, with falling crop yields, and increasing frequency of harvest losses and food shortages.

Through a global partnership of research collaboration between 27 organisations including the University of Reading, the World Health Organisation and the Wellcome Trust, the Lancet Countdown reports annually on the health related impacts of and responses to climate change.

Professor Elizabeth Robinson from the University of Reading said:

"The effects of human-made climate change are not spread evenly across the world. Lower-income countries often experience the worst impacts with respect to food production. Our research shows that as our climate continues to get warmer, crop yields are already being compromised, and agricultural workers' health is being harmed disproportionately because much of their time is spent working outside with little protection from the heat.

"Governments and multinational businesses have a key responsibility to take action to reduce global emissions, and need to partner to ensure that the voices of the most vulnerable to climate change are listened to. But there are also many actions governments can take that both improve the health of their own population, and mitigate climate change, such as encouraging a more plant-based diet in higher-income countries; encouraging people to walk, cycle, and use public transport rather than driving; and reducing air pollution in cities."

Heatwaves and our health

Europe has also felt the impact of global temperature rise, with several record breaking heatwaves felt across the continent in 2018 and 2019. Professor Robinson highlights serious global health concerns related to a warming planet, including cardiovascular, respiratory and diseases carried by vectors such as mosquitoes.

Professor Elizabeth Robinson said:

"There is a real risk that our health services will be unable to cope with more extreme and more common weather events such as heatwaves and floods. We have seen the number of deaths due to heatwaves in France fall from around 15,000 during the 2003 heatwave to around 1,500 during the 2019 heatwave, despite record temperatures in 2019. Yet though parts of Europe are finding ways to cope with extreme heat, as these events happen more often it is likely that more lives will be lost and deeply affected."

Read a post by Lancet Countdown co-author Professor Nigel Arnell about the rising risk of heatwaves, flooding and droughts:

http://blogs.reading.ac.uk/weather-and-climate-at-reading/2019/the-consequences-of-climate-change-how-bad-could-it-get/

Other examples of global partnerships that are tackling the impact of climate change on our environment based at the University of Reading:

<!--[if !supportLists]-->

Professor Robinson will be delivering a public lecture on Climate change: turning up the heat on our health on Wednesday 16 October. Her lecture will be available shortly afterwards on the University of Reading's Youtube channel.