Reading in the news: Mon 21 Oct
21 October 2019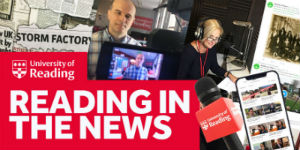 Any Questions: BBC Radio 4's Any Questions was recorded live from the Great Hall at London Road, and was the first programme with new host Chris Mason. The recording was also the largest live audience assembled for Any Questions in its history. Presenter Chris Mason also spoke to BBC Radio 4's PM and BBC Berkshire ahead of the programme.
Ministerial visit: BBC Berkshire cover the visit of Universities and Science Minister Chris Skidmore MP. Read our news story here and watch a short video about his visit here.
Nightlife: Mail Online report on a ranking looking at the 'best' universities for nightlife. University of Reading ranked 6th on the Alternative Uni Guide's list
Other News
European Funders

EIT Food

cover new projects to tackle health challenges and note that UoR is partnering a project on preventative food and lifestyle interventions.

Dr Ruth Evans (Geography) spoke to

BBC Berkshire

about a new report into loneliness in Reading. The report has been presented to the Borough Council's steering group on loneliness and social isolation.

The Next Web

and

Good to SEO

republish an article by Prof Ed Hawkins (Met) on how climate change has made it into pop culture.

UoR's new Muslim Chaplain Javed Kachhalia spoke to

BBC Berkshire

.

Further comments by Met PhD researcher Akshay Deoras on rain in Mumbai appear in the

Hindustan Times

.

Wokingham Paper report on a campaign by local charity Sport in Mind, which are running activities with the University of Reading.
An AI project to help businesses reduce energy waste developed with UoR has been shortlisted for an award, reports Bucks Free Press.

Prof Glenn Gibson (Food) is quoted in an Athletics Weekly article about adding wholegrain foods to help training.

BBC Berkshire spoke to Prof Kate Williams (History) following an interview that the Duchess of Sussex gave on parenthood.