New book reveals why we put on 'telephone voices'
22 October 2019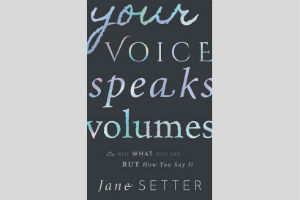 The reason we change our voice when talking to a stranger on the phone is just one of the secrets that will be revealed in a new book on the English language by a University of Reading expert.
In her book Your Voice Speaks Volumes, published by Oxford University Press on 24 October, Professor Jane Setter explains why people often become 'voice chameleons', changing the way they speak depending on social situations.
Subconsciously responding to or mimicking the tones and accents of others, as well as their timing and context, can lead to us changing our own voices without realising it. We may adopt certain accents we deem to be more authoritative or unthreatening when speaking to people for the first time.
This phenomenon is also the reason teenagers speak to their parents differently to their best friends.
Professor Setter said: "Altering your voice in different situations is normal, and the speakers themselves probably don't even realise it's happening. Our voices evolve to show our social allegiances, our tribal memberships. This chameleon-like aspect of your voice is called code-switching, and we all do it every day to a greater or lesser degree.
"Understanding and producing language is all about being able to decipher and apply patterns and codes. Where speech sounds are concerned, our brains are basically brilliant biological computers performing huge feats of code-breaking every moment of every day."
Professor Setter is a phonetics expert at the University of Reading, teaching English Language and Linguistics. She is a National Teaching Fellow of the UK Higher Education Academy.
Her book also discusses how the way people speak can be used to make judgements – rightly or wrongly – about them, why various accents are perceived very differently and how our voices can influence our careers and partner choices.
Your Voice Speaks Volumes: It's Not What You Say, It's How You Say It is available to buy from 24 October at https://global.oup.com/academic/product/your-voice-speaks-volumes-9780198813842?cc=gb&lang=en&