Reading in the News - Tues 22 Oct
22 October 2019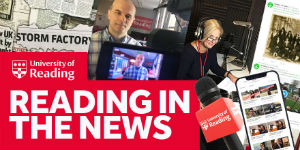 Fighting climate change: Professor Tom Oliver (Ecology) has an article published by The Conversation on mobilising the power of science in order to tackle climate change.
Harry and Meghan: Professor Kate Williams (History) spoke to BBC Radio Berkshire about a recent interview by the Duke and Duchess of Sussex.
EU Food: Dr David Rose (Agriculture) was featured in a BBC South piece about the impact of Brexit on everyday foods.
Tackling loneliness: A paper by the University on tackling loneliness is featured in a report by Heart Radio. Read our original story here.
The government's support of plans to bring the European Centre for Medium-Range Weather Forecasting (ECMWF) to the University is featured on BBC Berkshire.
Professor Arlene Astell (School of Psychology & Clinical Language Sciences) appeared on BBC's Bargain Hunt talking about the effect particular objects have on memories and emotional connections.
The Express mentions the University in a story about Speaker of the House, John Bercow MP.
The Wokingham Paper has an article on the filming of BBC Radio 4's Any Questions? Show at the University last week.
The Guardian mentions the University in an article about 'side hustles'.
The University is mentioned in an article by Coffee & Cocoa International about using cocoa pods to provide power for rural communities.