Reading in the News - Weds 23 Oct
23 October 2019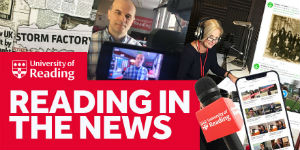 Long-lost book: The Museum of English Rural Life has featured in a number of articles, including The Guardian, BBC and Metro, as well as covered by radio including BBC Berkshire, BBC Oxford and BBC Wiltshire, about a woman who found her copy of The Secret Garden, which she had donated to a charity shop many years ago, while perusing the second-hand books in the museum's shop.
Intelligent buildings: CNBC Europe spoke to Emeritus Professor Derek Clements-Croome (Construction Management and Engineering) about the sustainability goals of the building sector.
Organic emissions: Research by academics, including Philip Jones (Agriculture), which suggests that if shoppers bought entirely organic produce, food emissions could soar by 70% in England and Wales, has been picked up by The I and BBC. Tom Oliver (Ecology) has commented on the research for The Conversation.
Other News
SANews reports on former Henley Business School Management graduate Zuks Ramasia who has been appointed Acting CEO of South African Airways.
Theatre News reports on new play 'I Wanna Be Yours' being debuted at Bush Theatre, London, which stars Theatre Arts, Education & Deaf Studies graduate Rachael Merry.
The Telegraph reports on Chris Mason's debut for BBC Radio 4's Any Questions? which was held at the University last week.