Study of Earth's climate through maths lands Reading researcher European award
23 October 2019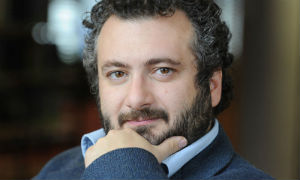 A mathematician at the University of Reading has been awarded a top European prize for his application of statistical mechanics to climate processes.
Professor Valerio Lucarini was this week awarded the Lewis Fry Richardson Medal by the European Geosciences Union (EGU). The prize is presented annually to scientists for exceptional contributions to the study of Earth and space.
At 43, Professor Lucarini is the youngest ever recipient of the award since it was established in 1998. His work includes using complex mathematics to better understand changes in the global climate, and the risks associated with this. He received the Whitehead Prize from the London Mathematical Society in 2018.
Professor Lucarini, Professor of Statistical Mechanics at Reading, said: "It's a huge honour to receive this prize. The work of people who have collaborated with me over the years has been essential to this achievement.
"Looking at the list of previous winners, there are some of the biggest names in my field – people who have been very important to my scientific life.
"I see this prize as a sledgehammer to move forward with some lines of research for me and my colleagues. It gives us courage to keep using this mathematical approach to tackling fundamental issues facing humanity."
The EGU named 49 scientists as recipients of its 2020 awards, which will be presented at the EGU General Assembly in Vienna on 3-8 May next year.
The EGU is split into 22 scientific divisions, focusing on different areas of Earth, planetary and space sciences. Professor Lucarini's prize was awarded by the Nonlinear Processes in Geophysics Division.
The Lewis Fry Richardson Medal is named after the scientist who pioneered numerical weather forecasting in the early 20th century.
The University of Reading will host a Mathematics of Planet Earth meeting, arranged jointly by the London Mathematical Society and Institute of Mathematics and its Applications, on 21 November. A series of speakers will discuss how mathematics is becoming more and more useful in the study of planet Earth.