Allotment holders get expert gardening advice as University donates Shinfield site
24 October 2019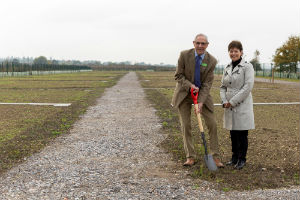 Allotment holders get expert gardening advice as University donates Shinfield site
Keen gardeners are set to benefit from new allotments after a site provided by the University of Reading was officially opened in Shinfield.
The handover of the Deardon Allotments site was celebrated on Wednesday 23 October as University botanists gave residents expert advice on making the most of their allotments.
Janis Pich, Director of Estates at the University of Reading, cut the ribbon to declare the allotments open. She said: "Allotments are in demand as growing your own food becomes more popular. We are pleased to be providing the Deardon Allotments to the Shinfield community and hope they will be a valuable resource for green-fingered residents.
"The allotments add to the public green spaces surrounding Shinfield that are managed by the University and are already well-used by local walkers."
The allotments, on the western edge of Shinfield, comprise 34 plots and will be managed by Shinfield Parish Council. They were donated by the University as an addition to other community facilities and infrastructure it has provided alongside housing development in the area.
Ian Clarke, Shinfield Parish Councillor, said: "At present, we do not have any allotments in this area so these allotments will create a better distribution in the parish. We are pleased that some local residents have already booked allotments on this site."
He added that he hoped the allotments would allow children at the new primary school, located nearby, to get involved in growing fruit and vegetables.
Allotment holders, residents and representatives from the University of Reading and Shinfield Parish Council all gathered at St Mary's Church Hall for the allotments opening event.
Dr Alastair Culham, a botany expert at the University, and Tomos Jones, Biological Sciences PhD student and Chelsea Flower Show gold medallist, answered questions from allotment holders on choosing the right plants for their plots and how to grow prize-winning vegetables.
Dr Culham said: "The key to a good allotment with healthy plants is to get the soil right. Be prepared to add homemade compost to put crucial organic matter into the ground. Soils with good organic matter and watering when needed are the secrets to good tasting veg.
"You should make sure your plot has good drainage, especially in the winter, and raising planting beds is an effective way of doing this if the soil gets waterlogged. It also helps the soil warm sooner in Spring.
"It's always a good idea to plan your allotment carefully so you get food all year round. Certain plants will thrive with more or less sunlight or rain, or in different types of soil, so a bit of research will go a long way."
University of Reading botanist Dr Alastair Culham's top allotment tips
<!--[if !supportLists]-->1. <!--[endif]-->Get the soil right – Be prepared to add homemade compost or well-rotted manure to put crucial organic matter into the ground to help your plants thrive
<!--[if !supportLists]-->2. <!--[endif]-->Good drainage – Make sure you plot has good drainage in the winter. Raising planting beds is an effective way of doing this
<!--[if !supportLists]-->3. <!--[endif]-->Clever planning – You can get food all year round by planting fruit and vegetables that are ready to eat in different seasons
<!--[if !supportLists]-->4. <!--[endif]-->Know your plot – Certain plants do better with more or less sunlight or rain, and in different types of soil. A bit of research will go a long way. Work with your allotments soil and climate - grow crops suited to it
<!--[if !supportLists]-->5. <!--[endif]-->Ask others - Other allotment holders on the local plot will know any problem issues and what grows well with minimal effort