Reading in the news - Fri 25 Oct
25 October 2019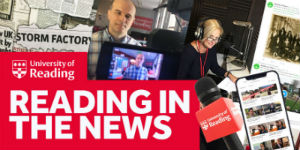 Brexit and farming: BBC Radio 4 Farming Today interviewed Dr David Rose (Agriculture) on the possible impact of Brexit and the Environment Bill on the environment and farming.
Berlin Wall anniversary: Dr Patrick Major (History) writes a piece for History Extra on the fall of the Berlin Wall 30 years ago.
Other coverage
Dr Francesco Tamagnini (Pharmacy) is quoted by Medical Xpress on a new study on the relationship between a protein and the brain cells of Alzheimer's patients. Read our news story.
A study involving Dr Philip Jones (Agriculture) showing if England and Wales moved to 100% organic farming without a change in the population's diet carbon emissions would actually increase is covered by the Military Times and the Epoch Times. Read our news story here.
Hindustan Times quotes Meteorology PhD student Akshay Deoras on the latest weather forecast for Mumbai.