Beckett-inspired creative works to be performed for the first time
28 October 2019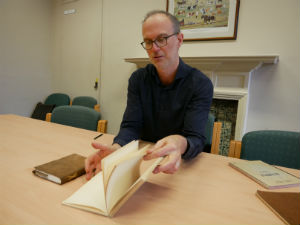 A 'radical' play and an experimental music composition inspired by the life and work of Samuel Beckett will be presented to the public following innovative fellowships at the University of Reading.
Writer and editor Robert McCrum and composer Tim Parkinson have both recently completed year-long creative fellowships which gave them unrivalled access to the University's Samuel Beckett Collection – the world's largest collection of materials relating to the renowned Irish writer.
As part of these, they were tasked with producing brand new, original work inspired by the Collection, which will be performed in Reading in November. McCrum is writing an original play titled Full Moon, while Parkinson has composed a musical score.
"The scratchy radio tapes add to Beckett's mystique. They are fragmentary, shadowy and imperfect" - Robert McCrum, Beckett Creative Fellow
The two fellowships followed award-winning author Eimear McBride becoming the first Beckett Creative Fellow in 2017. She produced original performance and prose pieces and kept a blog on her experience of working in the Collection.
Public performances of the two pieces will take place at the University of Reading on 6 and 7 November, respectively. They come as the University launches a campaign to promote the research value of special collections and archives, and their continued relevance and influence on modern-day society.
'Innovative' new play
Although still a work in progress, McCrum describes his play, titled Full Moon and set in France during the Second World War, as an 'innovative homage' to Beckett.
He will perform a staged reading from Act One Scene One, together with actors David Horowitch and David Threlfall, best known from Channel 4 series Shameless, plus director Michael Hoffman, in the University's Minghella Theatre on the evening of 6 November.
He was influenced by recordings of Beckett from the mid-20th century that he accessed in the Collection during his fellowship, which ran from June 2018 to July 2019.
McCrum said: "It was a great experience, because the archive is so remarkable. The scratchy radio tapes add to Beckett's mystique. They are fragmentary, shadowy and imperfect.
"Beckett was a shadowy figure, and so I think he'd be delighted with the way the tapes portray him, and with how they have been interpreted in this original play. My play is an innovative and, I hope, entertaining kind of homage to Beckett and his work."
During his fellowship, McCrum authored a piece for the Guardian and presented a BBC Radio 4 documentary giving an insight into the Beckett Collection.
'Connecting with a lost time'
Parkinson's musical composition will be performed by Plus Minus, a specially recruited string quartet, in Minghella Theatre on 7 November.
Its circular structure has echoes of Beckett's short story Lessness, however Parkinson said his original score is not intended to be a translation of Beckett's work.
"I could see the human behind the final work. I could see the rewrites and the dead ends – see the reality" - Tim Parkinson, Beckett Creative Fellow
Instead, his interest was in comparing himself with Beckett as an artist during his fellowship between April 2018 and April 2019. Reading through all of his notebooks from the 1950s to the late 1980s to see how their creative processes ran in parallel.
Parkinson said: "It was incredible to see our notebooks side by side. I could see how our respective work was unfolding. It was a privileged position. I could see the human behind the final work. I could see the rewrites and the dead ends – see the reality.
"I've read the final texts, but it was seeing the journals as physical objects that fascinated me, thinking about their history and who they might have belonged to. It was a glimpse of a world that's completely drifted into the past. It's the closest I can get to connecting with a lost time. I treated my time in the archives like regular visits to see a friend."
Championing archives
The University of Reading is promoting research on its collections and archives over two weeks from 28 October to 8 November. This will highlight how collections and archives are an outstanding resource for research and enrich lives by engaging diverse public audiences with arts and humanities.
In addition to the Samuel Beckett Collection, the University is home to many collections of international significance for research, which are often showcased through a variety of public engagement activities. Highlights include documents belonging to Lady Nancy Astor, the first female MP to take her seat in UK Parliament, and work by renowned science illustrator Marie Neurath.
Find out about the fascinating collections held at the University of Reading at reading.ac.uk/special-collections
Wednesday 6 November – 7.30pm
Reading from original play Full Moon by Robert McCrum and special guests. Plus a presentation and panel discussion on Samuel Beckett in the 21st Century, and wine reception.
Minghella Theatre, Whiteknights Campus University of Reading, RG6 2AH
Thursday 7 November – 7pm
Performance of original musical score composed by Tim Parkinson by ensemble Plus Minus, plus Q&A session and wine reception.
Minghella Theatre, Whiteknights Campus University of Reading, RG6 2AH
Book a place at these events and more here https://www.store.reading.ac.uk/product-catalogue/faculty-of-arts-humanities-social-science/department-of-english-literature/beckett-italy?fbclid=IwAR1j4vXFELyZChIqRuiII3RGSAmTyCHPkOarLDBPxbYH4a6RPQP1Kwf17XM
Image caption: Composer Tim Parkinson studies one of Samuel Beckett's notebooks from the Collection