Reading in the news - Mon 28 Oct
28 October 2019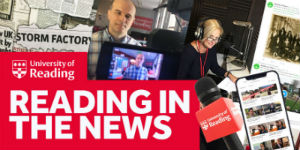 'Intelligent' offices: CNBC reports on a company in Finland that is building an office that is designed around the wellbeing of those who work in it, quoting Emeritus Professor Derek Clements-Croome (Built Environment) on how effective the idea could be. The story also appears in India Times Post and Stock News Feed.
Trendy diets: The Irish Mail on Sunday quotes Professor Gunter Kuhnle (Food and Nutritional Sciences) on how effective, or not, superfoods are.
Bercow bias: Analysis of the latest Brexit developments on BBC Parliament included a mention of Commons Speaker John Bercow's visit to the University of Reading in 2017, where he told students he voted Remain in the EU Referendum. Read our news story.
Food research funding: Food Manufacture and Eagle Radio reports on the £170m government funding handed to a consortium led by the University of Reading to offer a number of food science PhD research positions over the next five years. Read our news story.
Other coverage
A University of Reading student appeared on BBC Radio Berkshire to discuss an offensive video posted by two other students.
Farmers Weekly reports on surveillance by the University of Reading that revealed rat poison resistance in rats in new areas.
New Electronics quotes Slawomir Nasuto (Cybernetics) on the future of affective computing.
Meaww reports on a study involving the University of Reading that suggests moving to 100% organic farming would be harmful for the environment. Reading co-author Philip Jones (Agriculture) is quoted. Read our news story.
Reading research associate Kathryn Ledebur (GES) is quoted in an Ozy article on Latin American politics.
Reading graduate and founder of charity Creating Better Futures Dorothy Dix spoke to BBC Radio Berkshire about how her life was transformed through education and how she looks to do the same for others.
PhD student Akshay Deoras (Meteorology) is quoted in two articles by The Hindu, on weather forecasts for Mumbai and how they could impact Deepavali activities.
Bucks Free Press reviews the afternoon tea offered at Henley Business School's Greenlands campus.