Reading in the News - Weds 30 Oct
30 October 2019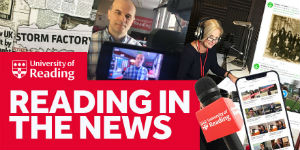 Grave matters: Professor Duncan Garrow (Archaeology)'s project with the British Museum to examine items buried with the dead is the focus of an article by The Guardian. Poet Michael Rosen will read a series of poems relating to 'grave goods' at the museum on Hallowe'en (Thursday).
It's not what you say, it's the way you say it: Professor Jane Setter (English Language and Applied Linguistics) spoke to Talk Radio (from 17:30) about her new book Your Voice Speaks Volumes. Read our story here.
Environment Bill: Professor Chris Hilson (Law) has added his name to the signatories of an open letter, published by The Telegraph, on the controversial Environment Bill.
All I want for Christmas is a General Election: Dr Mark Shanahan (Politics & IR) is quoted by Al-Jazeera in an article about the upcoming general election on December 12.
Iraq unrest: Dr Dina Rezk (History) spoke to Al-Jazeera about the ongoing unrest in Iraq.
Other coverage