Reading in the news - Thu 31 Oct
31 October 2019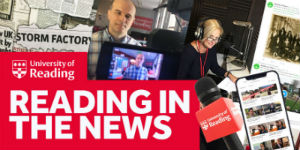 Making a spectacle: Optician Online has a report on Professor Anna Horwood (Psychology) being welcomed as a new Freeman at the Worshipful Company of Spectacle Makers' annual presentation ceremony.
Fulfilling PhDs: Dr Florence Phua (Construction Management) is mentioned in an article by BizEd about a study to determine the biggest contributors to PhD student satisfaction.
LGBT mental health: An article co-authored by Dr Allán Laville (Psychology) on the lack of research into the mental health of LGBT individuals is published by CBT Today.
Other coverage
An article by Professor Tom Oliver (Biological Sciences) highlighting a study co-authored by Philip Jones (Agirculture) on the effects of organic farming on carbon emissions is featured by The Independent.
The House Magazine mentions John Bercow MP's visit to the University in February 2017 in an article about the MP's career.
The University is mentioned in an article by The Wokingham Paper about local mental health charity Sport in Mind, which holds activities on campus.
Edie.net mentions the University in an article about Coca-Cola's plastic strategy. The company has trialled smart fountain dispensers on campus in a bid to cut down on single-use plastics.
Dr David Rose (Agriculture) is mentioned in an article by Farmers' Weekly on the upcoming Future Farm Technology Expo.