Reduced-sugar chocolate and low-saturated fat cheese trialled at nutrition symposium
31 October 2019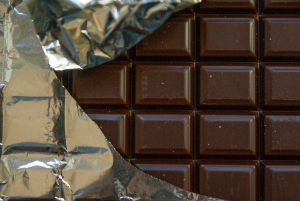 Reduced-sugar chocolate and low-saturated fat cheese could help reduce cardiovascular disease and tackle the obesity crisis thanks to ground-breaking research involving academics from the University of Reading.
In collaboration with partners, and funded by EIT Food, a team of University scientists has been working on ways to reduce the sugar content in chocolate by nearly 50% without compromising on taste, texture and appearance, while another team has been researching ways to reduce saturated fat in dairy products.
Professor Lisa Methven, lead of the SuReChoc research initiative said: "Reducing sugar in foods is a challenge – sugar not only gives sweetness, it is a major 'bulk' ingredient in many recipes providing structure to the food. In a sugar reduced product, the consumer is looking for sweet taste, expected texture, an improvement in the nutritional composition and an affordable price."
Sweet success
The EIT Food-funded SuReChoc project aims to reduce sugar content in a standard milk chocolate bar by 48% - down from 54g of sugar per 100g to just 28g, while increasing the fibre content to 16g per 100g. The project team includes Israeli partners DouxMatok and Strauss Group, alongside the University of Reading, with input from Givaudan.
Using innovative sugar-based technology developed by DouxMatok, which uses normal sugar alongside a mineral carrier to efficiently deliver sugar to the taste receptors on the tongue, the project team aimed to achieve an acceptable sweetness perception using less sugar. Professor Methven added: "The aim of the project was not to achieve an exact match in all physical and sensory characteristics, rather to understand the changes and optimise formulations until we have products that are desirable to the final consumer."
'As well as having a potential benefit to people's health this process also has benefits for the environment' - Professor Ian Givens, IFNH
In another EIT Food-funded project, researchers have been able to reduce the amount of saturated fat in cheese and other dairy products by feeding dairy cows oil-rich rapeseed supplements.
In this collaboration with the University of Helsinki, Valio and BioCC Estonia, researchers from the University of Reading have successfully produced a cheese similar in consistency to Cheddar, which is lower in saturated fat, but with higher levels of monounsaturated fat.
Professor Ian Givens, the Director of Institute for Food, Nutrition and Health (IFNH) who is leading the project said: "As well as having a potential benefit to people's health this process also reduces the amount of methane the cow produces, which has benefits for the environment.
"Generally, the people who have tried the cheese have found it to be quite acceptable, it is slightly softer than traditional cheese."
Changing behaviour
The IFNH brings together world-leading expertise in food, nutrition and health to understand how improvements in food production, processing and nutrition can help deliver better diets and health.
During the Institute's Annual Forum on Wednesday (30 October), attendees were invited to try the novel food products and to offer feedback, with many agreeing that they couldn't taste the difference.
The IFNH Annual Forum gives University researchers and members of the food and nutrition industry the chance to explore the challenges facing the industry.
Focusing on a theme of 'Influencing Behaviour Change Across Food and Health', speakers included a range of academics from across the University as well as Moira Howie, Manager of Nutrition & Health at Waitrose & Partner and Professor Thomas Hill, Chair in Nutrition at Newcastle University.
For more information on the IFNH, visit https://research.reading.ac.uk/ifnh/
EIT Food is Europe's leading food innovation initiative, working to make the food system more sustainable, healthy and trusted. For more information, please see https://www.eitfood.eu/