Media Report - Tues 3 Sept
03 September 2019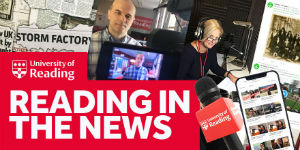 BBC Lincolnshire on how climate change is affecting the jet stream.
Struggling bananas: Dr Alastair Culham (BioSci) spoke to Newsweek about the impact of climate change on banana crops
Other News
Pig World and The Scottish Farmer report on a new foot-and-mouth disease vaccine which has been licenced by the Pirbright Institute, developed by research partners including the University of Reading. Read our news story here.
The Hampshire Chronicle reports on four students from IBM's Extreme Blue Internship programme, who are helping Marwell Zoo to improve its recycling. The team includes Eden Sinclair, a Graphic Communication and Typography student.