Art collaboration highlights urgency of climate change
03 September 2019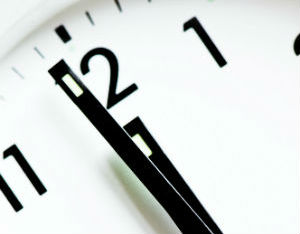 A unique art performance, co-commissioned by the University of Reading and Reading Thames Festival, will be taking place on the Whiteknights campus this September.
never closer to midnight, a new work by artist Janine Harrington, will be premiered as part of the Reading Thames Festival on Thursday 26 September.
The free performance responds to the different scales of urgency felt when faced with the climate emergency, simultaneous to senses of inaction or apathy.
Performed by a cast of 11, the piece will be a movement-based work, formed around the idea of the doomsday clock, counting down to the 'midnight' of different climate deadlines passing by.
Janine has been interacting with climate change experts from the University as part of her research into the piece.
She said: "The intention of this artwork is to evoke the urgency of climate emergency through repetition of human action and the familiar image of the clock. It will be both direct and subtle, confronting and spacious."
Miranda Laurence, Arts Development Officer, University of Reading, said: "We're thrilled to be partnering with Reading Thames Festival to commission a new work. It will bring attention to the world-class research happening right here in Reading on climate change in a new and unusual way.
"In this partnership, we hope to strengthen the ties between town and gown in Reading, in our shared aim of providing cultural opportunities for all audiences in Reading."
never closer to midnight will be performed at the Whiteknights campus on Thursday 26 September from 1pm to 3pm in the Palmer Quad, followed by another performance in the Abbey Gardens, Reading town centre at 6pm as part of the festival's Art After Dark session.
The performances will be free. For more information, visit readingthamesfestival.co.uk.
To find out more about never closer to midnight, visit our Arts and Culture blog.