Triple Times Higher Education Awards shortlisting for Reading
05 September 2019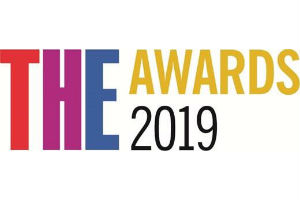 The University of Reading has scored a hat-trick of shortlisted entries for the Times Higher Education (THE) Awards 2019.
Nominations for innovative teaching and learning, and two research projects have been named by THE for this year's awards.
Dr Madeleine Davies, a lecturer in English Literature, has been shortlisted for Most Innovative Teacher of the Year, marking the second year that a University of Reading teacher has been a finalist for this prize.
Research scientists in Geography and Environmental Science involved in preparing for flooding using forecast data have been shortlisted in the 'Research Project of the Year: STEM' category, and Professor Rosa Freedman, in the School of Law, is shortlisted for the 'Research Project of the Year: Arts, Humanities and Social Sciences' award.
The THE Awards, widely known as the 'Oscars of Higher Education', recognize talent, dedication and innovation within the universities sector. This year, the THE Awards are spread across 23 categories and hundreds of entries were received from nearly 80 institutions across the UK.
The awards will be presented at Grosvenor House Hotel in London on 28 November 2019.
Professor Gavin Brooks, Deputy Vice Chancellor and Pro Vice-Chancellor for Teaching and Learning at the University of Reading, said:
"We are very fortunate to have a strong community of exceptional teaching staff at the University of Reading who are committed to excellent Teaching & Learning practice and scholarship. Madeleine is one of our Teaching & Learning champions and her being shortlisted for this award helps demonstrate the impact that her innovative teaching brings to improving the experience of our students."
Professor Dominik Zaum, Pro Vice-Chancellor for Research and Innovation at the University of Reading, said:
"Congratulations to Rebecca, Andrea, and Rosa on making the shortlist for the Research Project of the Year awards.
"Both projects combine excellent scientific research with vibrant partnerships, which contributed to the significant impact they have had on the effectiveness of delivering humanitarian aid, and the safeguarding of children in conflicts. It shows the growing strength of the University of Reading's research addressing global challenges across a wide range of disciplines."
The two shortlisted research projects recently won awards at the University of Reading's Research Engagement and Impact Awards 2019.
Preparing for floods before they happen
Postdoctoral researchers Dr Emerton and Dr Ficchi lead on a project that has been shortlisted for advising the UK's Department for International Development (DFID) on mitigating the impacts of the devastating floods in Mozambique during Cyclone Idai in March 2019.
They provided real-time flood hazard reports by interpreting data from GloFAS, the state of the art Copernicus Emergency Management Service Global Flood Awareness System. This allowed local authorities and humanitarian response teams on the ground to make informed decisions on mobilising and distributing aid to those most in need, and provide emergency shelters. Their strategic support was called on again two days before Cyclone Kenneth hit northern Mozambique just weeks later.
The emergency briefings were provided in close partnership with colleagues at the European Centre for Medium-range Weather Forecasting (ECMWF) and the University of Bristol.
Dr Ficchi is part of the FATHUM (Forecasts for Anticipatory Humanitarian Action) project, while Dr Emerton is involved with PICSEA (Predicting Impacts of Cyclones in South East Africa). Both projects are funded by DFID and NERC, and are part of wider University of Reading research on how countries can be more resilient to natural hazards and a changing climate, conducted alongside colleagues across the University including at the Walker Institute.
Dr Ficchi said: "We are delighted that our work has been shortlisted for a THE award. It's brilliant to see that such collaborative work across research projects, Universities, organisations and countries is being recognised for the positive difference it can make."
Dr Emerton said: "We are proud to work with a fantastic team of scientists and humanitarians both here in the UK and at our partner organisations around the world, and we are glad that the research we do was able to help in the response to the two devastating cyclones and extensive flooding in southeast Africa earlier this year."
Protecting children from abuse
Professor Freedman launched a safeguarding toolkit in 2018, building upon her expertise to provide the means to safeguard vulnerable people from being abused by the very UN peacekeepers that are deployed during conflicts to protect them.
The toolkit was launched in partnership with the NGO Keeping Children Safe following years of field-based research. It has been trialled and tested in UN countries and is being applied by armed forces in some of the largest troop-contributing countries in the world as well as large NGOs working in conflict and crisis zones.
Professor Freedman's expertise is now widely sought and she was recently appointed to the UN Secretary General's Civil Society Advisory Board on Sexual Exploitation and Abuse as well as being made a specialist adviser to the UK government on safeguarding.
Professor Freedman, a human rights researcher in the School of Law at the University of Reading, said: "It is an honour to be shortlisted for this award. Our research is being implemented in organisations around the world, but it is very special for it to be recognised by THE and within academia. This project is playing a vital role in safeguarding some of the most vulnerable members of our global society, and it is a privilege that our recommendations are being taken up by the UN, governments, armed forces, and NGOs committed to preventing and remedying sexual exploitation and abuse by their personnel."
Nurturing student creativity
Dr Davies has led a number of innovative teaching methods, including replacing exams with online learning journals to encourage flexible writing and critical independence. The greater freedom afforded to students has led to them producing some outstanding work.
One example of this is the journals produced by students on the work of Margaret Atwood. This led to Dr Davies publishing their work in a book, Second Sight, which was commended by the author herself. A follow up to the award-winning book is in production, this time focusing on Virginia Woolf's work.
Other initiatives by Dr Davies include an event celebrating forgotten women to commemorate the centenary of women winning the right to vote, and online videos aimed at sixth formers.
Dr Davies said: "I'm delighted to have been shortlisted for a THE Award. At Reading, we benefit so much from the support and encouragement of excellent Teaching & Learning deans and from small-group teaching which produces outstanding work from students.
"I wouldn't have been able to compete for the THE Award without this support and without the goodwill and commitment of my students."