Reading in the news - Mon 9 Sep
09 September 2019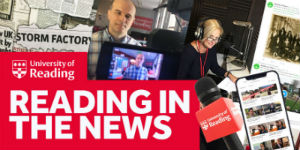 Four-day week: Henley Business School research showing the benefits of a four-day week is mentioned in a BBC Indonesia article on how changing work patterns could help the environment and in a Yahoo News piece. Read Henley's news story here.
Foot and mouth vaccine: A new foot and mouth vaccine, developed using University of Reading expertise and recently granted a licence, is reported in The Scottish Farmer, Irish Examiner, South West Farmer and Darlington and Stockton Times. Read our news story here.
Scottish clans: The Scotsman reports on an archaeological excavation that shed light on the history of Dunyvaig Castle in Islay. Read our news story.
Royal eco-endorsements: CBC quotes Professor Mike Goodman (Geography) in a piece on Prince Harry calling for tourism to be more sustainable, despite flying in a private plane as a royal.
Other coverage
Cosmopolitan magazine mentions Henley Business School's research on side hustling in an article on the health risks associated with juggling too many ventures.
BBC Radio Berkshire interviewed Sir John Madejski for its Reading FC podcast, including the legacy he has left at the University as former chancellor.
The Catholic Herald reports on the recent Reading archaeological dig in Lyminge, Kent, at an Anglo-Saxon abbey. Read our news story.
The Conversation publishes an article by Professor Gavin Parker (Built Environment) on why communities don't have more of a say in planning decisions in their neighbourhoods. This is picked up by Yahoo News.
Hindustan Times quotes Reading PhD student Akshay Deoras (Meteorology) on the Indian monsoon rainfall.
The Sussex Express mentions the Victorian mouse trap that was found to have caught a mouse inside a display cabinet at the Museum of English Rural Life in an article on 19th century pest control.
Get Reading reports on the upcoming Reading Thames Festival line-up, including a live art installation focusing on climate change and people's actions.