Professor Julie Lovegrove begins Nutrition Society presidency
10 September 2019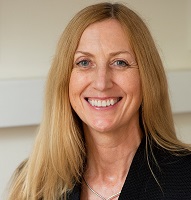 One of the country's leading experts in nutrition and cardiovascular health from the University of Reading has begun their term as President of the Nutrition Society.
Prof Julie Lovegrove, the Director of the Hugh Sinclair Unit of Human Nutrition at the University of Reading has been officially appointed as President of the Nutrition Society of the UK and Ireland on Monday 9 September.
Professor Lovegrove is Hugh Sinclair Professor of Human Nutrition, and Deputy Director of the Institute for Cardiovascular and Metabolic Research at the University of Reading. A Registered Nutritionist with over 30 years of research experience in studying the role of nutrition on cardiovascular diseases, Professor Lovegrove's research focuses on the metabolic impact of dietary fats, plant phytochemicals, nutrient-gene interactions and personalised nutrition.
Her work, which includes over 280 scientific publications, has made a major contribution to establishing the relevance of dietary fat quality in the development and prevention of cardiometabolic diseases.
Read about new research being carried out by Professor Lovegrove that is looking at where obesity comes from at:
https://www.reading.ac.uk/news-and-events/releases/PR794711.aspx
Professor Julie Lovegrove said:
"I am privileged to be offered the opportunity to work with our excellent Trustees and Advisories and the outstanding CEO and Nutrition Society staff to further advance the Society's activities to advance nutritional science and its application to promote human and animal health research.
"My aim is to continue the excellent work of the society and uphold its long history of excellent achievements.
"My aspirations are to create further opportunities for students and early career researchers to engage with the Society, and to help secure future investment and growth in nutrition as a major discipline.
"I also hope to continue our increasing relationship with the medical profession, to further extend the reach of the Society into the international arena, and to work more closely with other organisations, with the aim of achieving a common voice in evidence-based nutritional science."
Professor Lovegrove also serves on a number of external committees, including the UK Government's Scientific Advisory Committee for Nutrition (SACN), with previous posts including serving as Deputy Chair for the Association for Nutrition (AfN) Council (2016-2019), and Chair of the AfN Accreditation Committee (2011-2019). She was awarded Fellow of the AfN in 2014.
Read more about Prof Lovegrove's work advising Government and the role that flavonoids may play in fighting heart disease at:
https://www.reading.ac.uk/news-and-events/releases/PR762871.aspx
About the Nutrition Society
Established in 1941, the Nutrition Society is one of the largest learned societies for nutrition in the world with nearly 3,000 members from over 85 countries.
For further information on the Nutrition Society visit https://www.nutritionsociety.org/about