Reading in the News - Weds 11 Sept
11 September 2019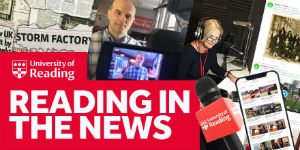 The Times runs a piece on the work carried out by the Silchester field school this summer, which shows links to the Iron Age, quoting Professor Michael Fulford (Archaeology).
Araucaria trees: PhD researcher Oliver Wilson (Environmental Science) has an article published by The Conversation on the extinction threat to Brazil's iconic Araucaria trees.
Climate ministers: Professor Ed Hawkins is mentioned in an article by the Carbon Brief which looks at which MPs talk about climate change the most, and which scientists they follow on social media.
Westminster chaos: Dr Mark Shanahan (Politics & IR) spoke to BBC Radio Berkshire about the latest goings-on in the House of Commons.
The Nutrition Society's new President: Professor Julie Lovegrove (Human Nutrition) spoke to BBC Radio Berkshire about her new role as President of the Nutrition Society, and the work of the society. Read our news story here.
Reducing emissions in farming: Professor Elizabeth Robinson (Applied Economics & Marketing) spoke to BBC Radio 4 (which was then shared by BBC Cornwall and BBC Devon) about the National Farmers' Union's proposals for British farming to become carbon neutral by 2040.
Other News
New Food reports on a post-graduate Animal Science module on sustainable livestock production systems by the University, which has been made available to anyone who wants to increase their understanding of the subject
House of Commons Speaker John Bercow MP's visit to the University of Reading in 2017 is mentioned in a piece by The Spectator.
An upcoming creative writing workshop led by Laura Healy (English Literature) is covered by Art Fund.
The Wokingham Paper reports on a £1 million grant awarded to a research project on the Peasants' Revolt.
Several University students have been quoted in an article by The Daily Mail about a dispute over deposits with a local estate agency.