Reading strengthens performance in Times Higher Education World University Rankings 2020
11 September 2019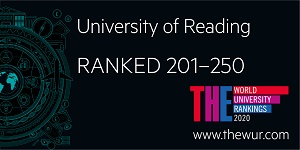 The University of Reading has risen for the third consecutive year to 29 in the UK in the Times Higher Education World University Rankings 2020.
The global ranking, published today, sees the University of Reading climb one place to 29 (equal), up from 30 last year. Reading also retained its position in the top 250 universities in the worldwide ranking, listed in the 201-250 group in the world overall among 1,396 institutions from 92 countries.
Reading galvanised its reputation as a global institution, ranked at 75 in the world for international outlook. This reflects the University's diverse staff and student community and the globally engaged nature of its research. The University also increased its score for research, and was more highly rated for citations and industry income than any point in the past six years.
Professor Robert Van de Noort, Vice-Chancellor of the University of Reading, said:
"We are proud to be recognised among the top 30 institutions in the UK. As the UK grapples with its place in the world, we are proud to be a global institution with a presence on three continents and a 20,000-strong student community from more than 140 countries.
"We know that our outlook also has a significant local impact, bringing the world to Reading. With more than a quarter of our student body originating outside the UK, international students make a significant economic and cultural contribution.
"We recognise that there is always room for improvement. We will be reflecting on this and other rankings to make meaningful and necessary advances for our students, staff and the wider community."