Reading in the news: 13 Sept
13 September 2019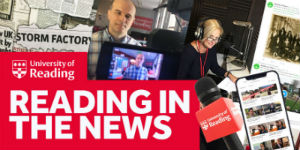 Yahoo! News reports from Henley Business School's World of Work conference on comments made by the CEO of CIPD. In addition, Dr Naeema Pasha (Henley Business School) spoke to BBC Radio Berkshire (2hr 10 mins in) about new research released at the conference which revealed that being 'woke' is an important consideration for both employers and employees looking to the future of work. Read Henley's story here.
Saturated Fat: Food Manufacture covers the launch of the Government's Scientific Advisory Committee on Nutrition, which Prof Julie Lovegrove (Food) sits on, which looked at the role of saturated fats on health. Emeritus Professor Christine Williams provided comments.
Improving local roads: Highways reports about Government-funded schemes to improve roads, and notes that one of the funded schemes is for a project which UoR is working on in collaboration with Siemens and four local authorities.
Other News