Reading in the news - Mon 16 Sep
16 September 2019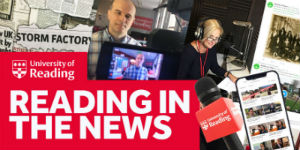 Neighbourhood planning: The Independent and Yahoo News republish an article written for The Conversation by Professor Gavin Parker (REP).
Urban hedgehogs: The Sunday Telegraph references Reading research on what makes a hedgehog-friendly garden in an article on an apparent rise in the number of hedgehogs in towns and cities.
Illustration exhibition: The Financial Times includes the Marie Neurath exhibition at House of Illustration in London, featuring items from the collections at the University of Reading, in a round up of things to see in the capital.
Open banking: Professor Brian Scott Quinn (Henley Business School) spoke to US radio stations, including Michigan Radio, about European banking rules being introduced in the US.
LGBT human rights: LBC radio interviewed Professor Rosa Freedman (School of Law) on how human rights laws could be adapted to support transgender members of the community.
Other coverage
Farmers Weekly reports on a Reading study that found adding oils extracted from the oregano plant can reduce antimicrobial-resistant bacteria in milk when fed to calves.
BBC Radio Berkshire spoke to the new Muslim chaplain Javid Kachhalia. Read our news story.
Relief Web reports on PICSA, a project developed at Reading to allow farmers in Rwanda to use agriculture and climate information to make decisions.
People Management reports on a Henley Business School survey of workers and business leaders that showed how much an organisations' social values influenced its recruitment decision.
PhD student Akshay Deoras (Meteorology) is quoted by Hindustan Times on the record amount of rainfall in Mumbai during the monsoon.
Henley Standard mentions PhD student in article on Brexit.
The history of Foxhill House on Reading's Whiteknights campus is mentioned in a Get Reading article debunking urban myths in the town.