Reading in the news - Mon 2 Sep
02 September 2019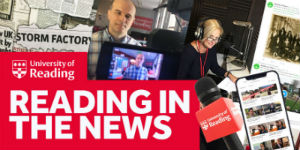 Football finance: An article for The Conversation written by Dr James Reade and Dr Carl Singleton (Economics) on the collapse of Bury FC is republished by the Irish Examiner and Phil's Stock World.
Summer structure: Architects' Journal reports on the 'Urban Room' structure created by Reading Architecture students on campus this summer.
Jet stream science: PhD student Simon Lee (Meteorology) spoke on the Paul Hudson Weather Show on BBC Radio Humberside, Leeds, York and Sheffield about his recent research on how climate change is affecting the jet stream.
Other coverage
BBC Radio Berkshire interviewed Professor Mike Fulford (Archaeology) about what Roman Britain would have been like, for a feature on an excavation in Boxford.
BBC Radio Berkshire interviewed another student who attended Reading Festival as part of the University's partnership with the organisers, who is exploring diversity and BAME acts at festivals in the form of tapestry. Read her story here.
The St Ives Times & Echo reports on a schoolgirl who has raised money for a project involving the University to help save vultures threatened by poachers.
True Viral News quotes Dr Yoshikatsu Hayashi on new technology for detecting infections.
PhD student Akshay Deoras (Meteorology) is quoted in the Hindustan Times and Indian Express on the monsoon in Mumbai.
Commons Speaker John Bercow's visit to the University of Reading, where he told Politics & International Relations students he had voted Remain in the Brexit referendum, is mentioned in a piece on the Speaker in the Daily Mail. Read our news story here.
Housebuilder mentions support by DAC Beachcroft for research by Professor Michael Ball (Built Environment) into the role planning conditions play in delaying housing targets.
The Daily Mail mentions that Penny Mordaunt MP is a Reading graduate, in a report on her being tipped for a Cabinet role.