Reading in the News - Tues 17 Sept
17 September 2019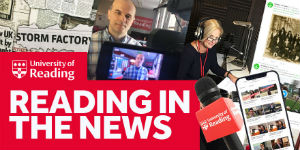 The Times of India on the record-breaking rainfall which has hit the country recently.
Pride of Reading: GetReading has a story on Human Geography student Sabine Mayeux who has been nominated for a Pride of Reading award for her work volunteering at a local soup kitchen.
World of Work conference: Yahoo features a story on a talk given by Microsoft Services' chief technology officer Richard Potter at the World of Work Conference, which was hosted by Henley Business School on the Whiteknights Campus last week.
Louis the Missionary: An article on King Louis IX of France by Professor Lindy Grant (History) is shared by History Today.
Other News
Professor Brian Scott-Quinn (Henley Business School) appears on US radio station WFAE Charlotte North Carolina talking about the concept of open banking.
Professor Kevin Warwick spoke to BBC Radio Berkshire about the rise of artificial intelligence.
CityMetrics shares an article on Barcelona's car-free 'superblocks' by Professor Anupam Nanda (Real Estate & Planning) which was originally published by The Conversation.
A paper by Dr Sylvia Jaworska (English Language & Applied Linguistics) is featured in an article by Grist on the changing vocabulary used to describe climate change.
The Reading Chronicle features a story about former law student Sophie Clark who has been appointed to a local law firm.
Insider Media has a story on a record number of students who have joined professional services company PwC's training programme, which is run in connection with the University.
Food Service Equipment Journal shares a story about former student Clare Clough who has been appointed as UK managing director of Pret A Manger.
The Reading Chronicle features a story on the upcoming Reading Thames festival, which features a performance at the University.