Reading in the News - Weds 18 Sept
18 September 2019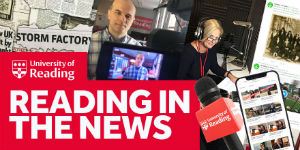 Warming Earth: Dr Peter Innes (Met) and Professor Len Shaffrey (NCAS) are both quoted in an article by This is Money on fears that the Earth is warming faster than first thought.
The Downton Abbey Effect: Dr Faye Woods (Film Theatre & Television) is quoted in an article by The Ringer on the boost in tourism to English villages, such as Bampton, Oxfordshire, following the success of Downton Abbey.
Gender-neutral child: Professor Rosa Freedman (Law) is quoted in an article by The Telegraph and Inquisitr about a couple's decision to keep their child's gender a secret from close family and friends.
Other News
The Reading Chronicle runs a story about unofficial 'freshers' events and mentions a post on social media published by the University.
Professor Matt Worley's Subcultures Network is mentioned in an article by It's Nice That on the Museum of Youth Culture.
ECMWF mentions the University's work on tropical cyclones in an article on the Global Flood Awareness System (GloFAS).
Eye on Design has a feature on Marie Neurath, whose work is stored in the Otto and Marie Neurath Isotype Collection at the University.
A study by the University into poison-resistant rats is mentioned in an article by Farming Monthly.
New Steel Construction mentions that Graham Construction have been instructed to build the new British Museum research and storage facility at Thames Valley Science Park.