David Schwimmer is the most underappreciated Friend
and here's why.

20 September 2019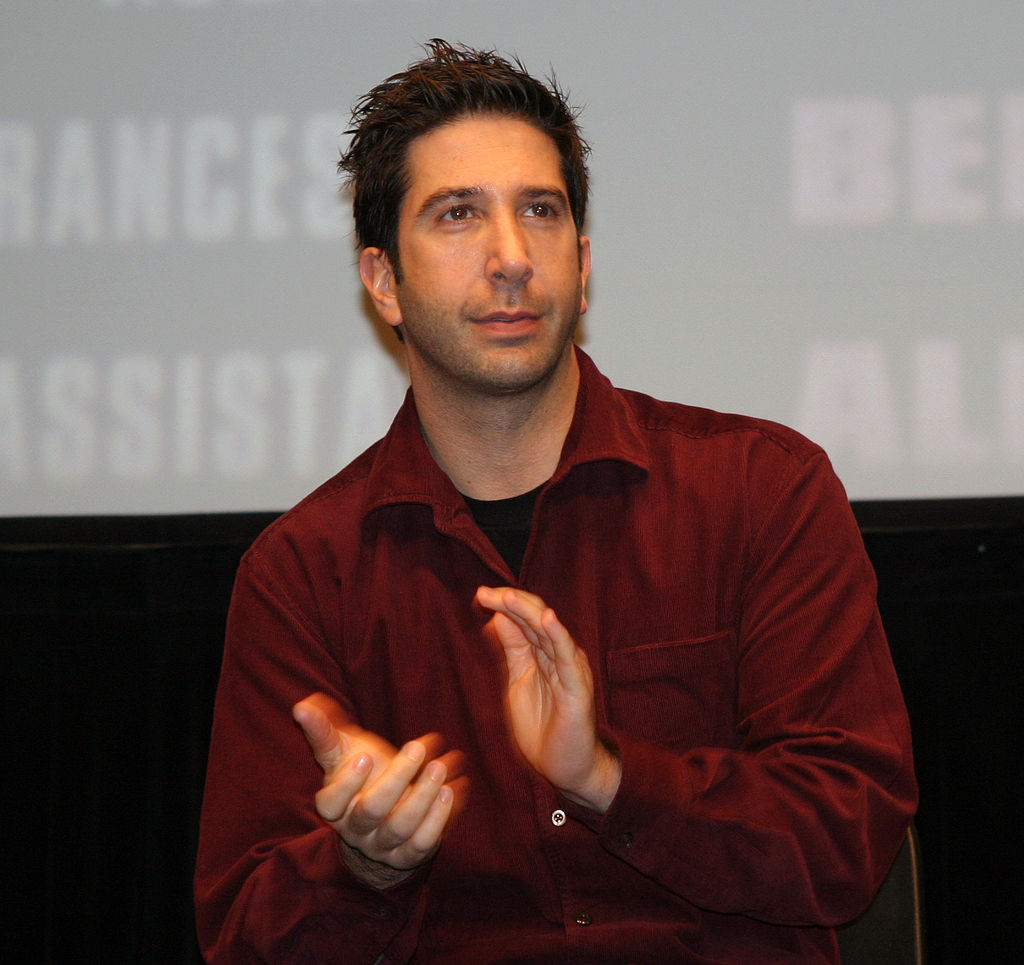 A new book celebrating the genius of Friends suggests that David Schwimmer is the most underappreciated actor in recent television history.
To coincide with the 25th anniversary of the sitcom's first episode, academics from the UK and Norway have collaborated on a ground-breaking academic reading of the show, which ran for 10 series between 1994 and 2004.
Dr Simone Knox, an Associate Professor in Film & Television at the University of Reading, and Kai Hanno Schwind, an expert in television comedy and production studies at the Kristiana University College in Oslo, reveal in their book Friends: A Reading of the Sitcom, how David Schwimmer's portrayal of Ross can be placed as one of the greatest comedic performances of our time.
Read more: Free event to launch first academic book on Friends >>>
Dr Knox says: "Schwimmer's performance frequently draws on slapstick, which has often been regarded as one of the more basic forms of humour, but this does not explain its widespread appeal.
"This dismissal, by audiences, critics or scholars, neglects to explore and assess the challenges and intricacies of a successful physical comedic performance, and the particular skills and craft involved, which are prevalent in a number of scenes in Friends, especially those involving Schwimmer."
In an interview for the book, show creator Marta Kauffman describes how the character of Ross was written with David Schwimmer in mind, and that the character, along with the rest of the cast, was developed throughout the series to play to the actors' strengths.
Dr Knox explains: "Out of the entire cast, Schwimmer, who has a background in the Chicago theatre scene, was perhaps most aware of the full range of performance opportunities and challenges presented by multi-camera filming before going into production and, more significantly, how to engage with them in front of a live audience.
"This is particularly visible in Ross's many slapstick moments in which Schwimmer's strength of physicality, vocal delivery and comic timing are used particularly well."
In the book, Dr Knox examines the infamous scene in 'The One with All the Resolutions' where Ross decides to wear a pair of tight leather pants to impress his date, Elizabeth.
She says: "The 'cool' leather pants are actually too hot, making him sweat, and so they must come off, but the following sequence, which runs for a total of just over three minutes, is entirely based on and constructed around Schwimmer's physical slapstick performance.
"Schwimmer realises the slapstick and heightened physical comedy through not only strong physical skills—embarrassment is often explicitly hinged around Ross's physicality and the materiality of his being—but also nuanced acting choices grounded in realism and naturalism, asking his audience to relate to Ross's only too human dilemmas, which works to support the programme's strategy of intimacy."
Knox suggests that Schwimmer's comedic skill is vastly underrated, reflected in the fact that the actor only received a handful of award nominations for the character, and only won as part of the ensemble.
She says: "The beauty of this cast, and Schwimmer in particular, is they make it look so easy. Their reactions to one another, their awareness of the multi-camera production, and the way that they actually offered each other feedback on their performances in order to improve, all add to the uniqueness of the show.
"We as the audience take for granted what these actors achieve, and it is only when we see someone do it badly that we can fully appreciate what they do."
The book, which is believed to be the first of its kind, also examines the show's use of set design, representation and endeavours to answer the question of why a 25-year-old sitcom still manages to capture such huge audiences today.
Dr Knox concludes: "Its cultural impact has been significant, launching catchphrases; influencing the English language; it inspired a hairstyle; and became a cultural touchstone within the broader cultural media landscape.
"Clearly, Friends has achieved a longevity for its fans that far outstrips its ten seasons and is indisputably one of the most significant programmes in the history of television and media culture."
Friends: A Reading of the Sitcom is released through Palgrave Macmillan on 7 October.