Reading in the news - Thursday, 19 Sept
19 September 2019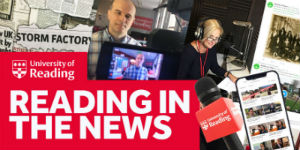 Compound flooding: Daily Mail, BBC News, New Scientist, and Western Daily Press cover new research about how climate change will make floods worse from multiple sources in coastal areas. The research was also mentioned on Radio 4's Today Programme and BBC Radio Bristol. Read our news story here.
Business School research: Comments by Prof Andrew Kakabadse (Henley Business School) about the quality of research by business schools appears in Times Higher Education.
Pheasant shooting: The Times and BBC News cover calls for UoR to reconsider an agreement for game shooting on one of the University's farms. Read our statement here.
Other News