Reading in the news - Fri 20 Sep
20 September 2019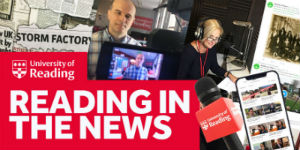 #CoveringClimateNow:
The Guardian and The Economist both run the climate stripes graphic created by Professor Ed Hawkins (Meteorology) on their front pages in connection with the climate action strikes taking place across the country today. See attached. Read our news story.
New Scientist quotes Professor Hannah Cloke (GES and Meteorology) in an article rounding up messages from scientists to world leaders on combatting climate change.
The Real News republishes an article for The Conversation by Dr Sylvia Jaworska (English Language and Applied Linguistics) on the language used by oil companies on their environmental responsibilities.
The Nation and The London Economic reports on a study into how compound flooding will increase in future under climate change. Read our news story.
Friends anniversary: The Independent and Metro report on a new academic book analysing the sitcom Friends by Dr Simone Knox. Read our news story.
Probiotics and weight loss: The Daily Mail quotes Professor Glenn Gibson (Food and Nutritional Sciences) on a study carried out in China suggesting taking probiotic pills can help you lose weight.
Other coverage
Dr Graeme Marlton (Meteorology) answered the question 'can lightning strike water?' for a BBC Radio Coventry and Warwickshire feature.
The Hindu quotes PhD student Akshay Deoras (Meteorology) on the latest forecasts for monsoon rains in Mumbai.
BBC Radio Berkshire and Reading Chronicle report the calls from the League Against Cruel Sports for the University to stop shooting on its farm land.
The Breeze FM reports on Reading Borough Council introducing a new food waste recycling scheme, and adds that the University will encourage students to participate.
The Reading Chronicle reports that Reading graduate Millie Farquhar has been awarded a BAFTA scholarship.
LandbrugNord in Denmark reports on a conference of researchers and farmers, where Professor Chris Reynolds gave a presentation on the use of protein in dairy farming.