Military Strategy experts gather at Reading Uni
18 September 2019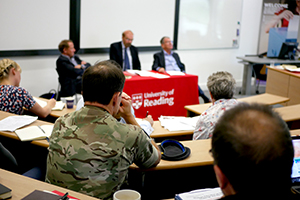 Military leaders joined experts from the University of Reading to discuss joining forces for strategy education.
Experts from the School of Politics, Economics and International Relations presented how the University is supporting the military to fight future challenges as part of a showcase to consider the future of strategy education.
The event also heard from visiting Professors and former senior military leaders Sir Brian Burridge and Sir David Capewell. Air Chief Marshal Sir Brian Burridge, KCB, CBE, Commander of British forces under Operation Telic during the 2003 invasion of Iraq, and Former Royal Marine Lieutenant General Sir David Capewell KCB OBE, who was Chief of Joint Operations in 2011-2015. Sirs Burridge and Capewell shared about their experience of how academic teaching can enhance military training - and about the necessity of critical thinking to evolving strategy, and particularly strategy implementation.
Dr Mark Shanahan, Head of Politics and International Relations at the University of Reading said:
"We had an excellent day of open, challenging, rank-blind discussion as we welcomed almost 30 military and defence personnel from across the services and the MOD's civilian staff.
"The event was immersive, giving participants a useful taste of the way we work as educators through our Masters degrees, as research partners for PhD students and Visiting Fellows and as consulting experts, working with the defence and security sector in ensuring the military mind and machine is fit for the future."
The showcase also highlighted a partnership with the Henley Business School, the School of Politics, Economics and International Relations and Royal Military Academy Sandhurst, which delivers the British Army's Higher Education Pathway.
The pathway currently allows RMAS officers to achieve a formal academic qualification in Leadership and Strategic Studies at the University. Selected officer cadets entering the Commissioning Course at RMAS can pursue a Bachelor's or Master's degree during the early years of their career.
The course is taught face to face and online, offering digital learning access to officers spread around the UK and abroad. It is intended to equip them with skills to deal with a variety of scenarios in the field of duty.
Professor Dominik Zaum, Pro-Vice-Chancellor for Research and Innovation and Professor of Governance, Conflict and Security, University of Reading said:
"Both the University of Reading and RMAS have long-standing and distinctive traditions of inquiry and education. We are already bringing these traditions together in the education of army officers, and look forward to explore further areas for collaboration in education and research, and learn from each other."