Reading in the News - Weds 25 Sept
25 September 2019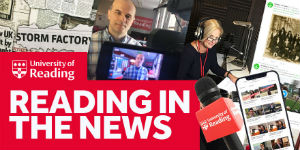 Award-winning council homes: Professor Flora Samuel (Architecture) is quoted in a piece by The Guardian on the importance of well-built, sustainable, but affordable, homes.
Boris Johnson: Dr Mark Shanahan (Politics & IR) spoke to CNN, Russia Today, BBC Radio Berkshire, about the Supreme Court's ruling of Boris Johnson's prorogation of parliament. Professor Kate Williams (History) spoke to BBC Radio 4 about whether the Prime Minister should apologise for the advice given to the Queen.
Vegan-friendly: PETA UK has ranked the University as one of the most vegan-friendly universities in the country.
Medical A-I: Professor Richard Mitchell (Computer Science) is quoted in a piece by the Daily Mail about the use of artificial intelligence in medicine.
Rainy weather: Former student Simon King (Met) spoke to BBC Radio Berkshire about the torrential downpours which affected the country yesterday.
Other News
Professor Hannah Cloke (Geography) is quoted in a piece by The Malawi Daily Times about the 'climate catastrophe' ahead of the UN Climate Summit.
Dr Nikolaos Antypas (ICMA) is quoted in an article by S&P Global about the recovery of the Greek banking system.
The Business Magazine shares news of the property exhibition launched between the University's Architecture department and local home-builder Shanly.