Sensory experience helps Reading scoop Berkshire Show prize
23 September 2019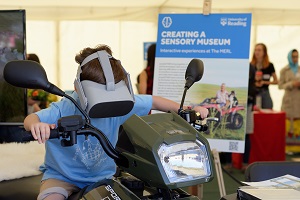 Visitors to this year's (2019) Berkshire Show were treated to a sensory experience on the University of Reading stand, including a ride on a virtual reality quad bike.
The University of Reading put on an award-winning experience based around the theme of the five senses, which showcased its breadth of subjects and research including food science, sustainable farming, psychology and botany.
Attendees were able to experience a virtual reality quad-bike ride as part of its centrepiece, which scooped the University the runner up position in Best Large Trade Stand category for the Berkshire Show. The unique quad bike experience helped to show visitors about the need for accessible exhibitions in museums put on by purpleSTARS based in the School of Art and Communication Design, which in 2018 worked with the Tate Modern museum to develop a sensory museum.
Dr Kate Allen, Associate Professor of Fine Art at the University of Reading said:
"The purpleSTARS really enjoyed the Berkshire Show, the VR quad bike experience was very well received, once the VR headset was on, it was a challenge to persuade visitors to leave the virtual Dartmoor, people were happy to queue up for the chance to try it. There was also a constant flow of people watching our animated VR English Four Seasons Forest - which was unanimously loved.
The purpleSTARS approach demonstrates how inclusive sensory art and technology approaches create Museum exhibits. A Berkshire show visitor said to me that the VR Quad Bike experience captured the imagination of young people which they stressed is so important for the future of farming. In fact, one mum said that it made her sons dream a reality as he wanted to be a sheep farmer when he grew up."
Read more about PurpleSTARS' work here:
https://purplestars.org.uk/2017/03/01/featured-content-2/
Other attractions included a showcase of ebooks to help fussy young eaters get more into fruit and veg. The research project See and Eat gave visitors an experience of a new ebook that helps familiarise young children with fruit and vegetables in order to help parents introduce them into a diet.
Dr Natalie Masento, from the School of Food and Biosciences at the University of Reading said:
"We had a fantastic time at the Berkshire Show this year. It was great to see lots of visitors, young and old engage with their senses, the theme for this years stand.
"Whether it be riding the VR quad bike, smelling pollen, tasting mysteriously coloured liquids or feeling an assortment of vegetables, there was never a dull moment for those that came to visit us. The organisers clearly liked our stand too as we won a prize for 2nd best large trade stand!"
Other experiences included:
Sensory Experience Corner (MERL - Alison Hilton)

– A feast for the senses, explore some of The MERL's multi-sensory experiences, created by and with community partners.

Sensing the Past: Farmers' responses to livestock disease (FIELD_WT project – Ollie Douglas)

– Visitors will be able to view historical photos of farmers treating sick livestock, to hear an elderly farmer reflecting on the methods he used to employ, and to see and feel old equipment that was used for this purpose.

Agroforestry and the Five Senses (Agriculture - Matthieu Arnoult) -

Activities that show a sensory connection to agroforestry e.g. how agroforestry visually affects the landscape, provides habitats for animals bringing sources of environmental sound, wildlife and livestock favour new smells, promoting new textures etc.

Smelly plants and 3D Pollen (Botany and SAGES - Oli Wilson, Jonathan Mitchley & Meg Cathcart-James)

Total immersion in smelly plants, both sweet and stinky, scratching and sniffing them, discussing the chemical basis of the aromas, their roles in plant defence and pollination, and the human dimensions: food, medicines and health. 3D Pollen Project (scanning and 3D-printing larger-than-life models of microscopic pollen grains). Demonstrating how we use senses to engage with research e.g. sight, touch.

How Musical Are You? (Psychology -

Fang Lui, Caitlin Dawson & Phillip Beaman

) –

Exploring musicality, sound and the brain. Educating the public on how musicality is researched and sound perception in general. Activities showing that different people have different musical skills and experiences.

Sensory Reactivity: How we all perceive the world differently (Psychology -

Teresa Tavassoli, Keren Maclennan & Timothy Rossow

) –

Activities to inform about

sensory preferences and differences, particularly tactile preferences.

Your Sensory Profile (FNS -

Lisa Methven, Stella Lignou & Jane Parker

) –

Exploring individual Differences in Sensory Perception (aroma and taste) and how these influence our liking of foods and our diet.