Reading in the News - 26 Sept
26 September 2019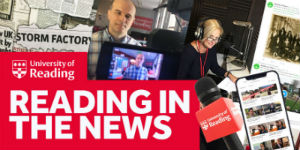 Climate stripes: Design Week and Kerrang (print) cover the climate stripes graphic put together by Prof Ed Hawkins (Met).
Parliament returns: Dr Mark Shanahan (Politics & IR) spoke to CNN International following the return of MPs to Parliament; and Prof Ben Laker (Henley Business School) spoke to Sky News Australia as the fallout from the Supreme Court ruling continues.
Peasants Revolt: Family Tree magazine (print) covers the announcement that Prof Adrian Bell (Henley Business School) will be leading a £1million research project into the events of 1381.
Other News
Further coverage of comments by Prof Richard Mitchell (Computer Science) about the use of artificial intelligence in medicine appear in Medscape.

An obituary for former Architectural Historian and Professor of Fine Art Kerry Downes appeared in the print edition of the Times.

BBC Berkshire spoke to Dr Andrew Mangham (English Lit) about local author Nancy Mitford.

A feature about efforts to increase awareness about the environment in a school near Henley notes that a UoR Architecture students' project has allowed teaching to take place outside through more of the year, in The Countryman.

Inside Business cover the release of UoR graduate and rapper Falz' fourth album highlighting societal issues in his home country of Nigeria.