University academic launches Friends book with talk
26 September 2019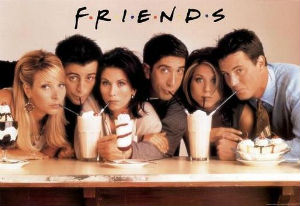 Fans of the hit sitcom Friends are invited to hear more about the cultural significance and importance of the show at a free event at the Whiteknights campus next week.
Dr Simone Knox, an Associate Professor in Film & Television at the University will be hosting a free talk on Tuesday 1 October about the show to coincide with the release of her book on the subject.
Dr Knox will deliver the talk entitled Friends at 25: Why a sitcom from the 1990s still matters in the Minghella Studios before fielding questions from the audience.
Read more: Ross is the most underrated character in Friends, and here's why >>>
The book Friends: A Reading of the Sitcom, which Dr Knox co-authored with Kai Hanno Schwind, an expert in television comedy and production studies at the Kristiana University College in Oslo, features exclusive interviews with show creator Marta Kauffman, executive producer Kevin S. Bright, director James Burrows and production designer John Shaffner.
Believed to be the first of its kind, the examines cast performances, the show's use of set design, diversity and representation, and endeavours to answer the question of why a 25-year-old sitcom still manages to capture such huge audiences today.
Dr Knox says: "Friends' cultural impact has been significant, launching catchphrases; influencing the English language; inspiring a hairstyle; and became a cultural touchstone within the broader media landscape.
"Clearly, Friends has achieved a longevity for its fans that far outstrips its ten seasons and is indisputably one of the most significant programmes in the history of television and media culture.
"Friends' intimate bond with viewers certainly shows no signs of dying off. A towering presence in television culture for a quarter of a century (and counting), we hope that this book will help to give Friends the central place it warrants in television scholarship."
Friends at 25: Why a sitcom from the 1990s still matters takes place at 7pm on Tuesday 1 October at the Minghella Studios, University of Reading Whiteknights Campus. Entry is free, but places must be pre-booked by visiting bit.ly/friends-at-25 .
Friends: A Reading of the Sitcom is released through Palgrave Macmillan on 7 October.