Reading in the news - Fri 27 Sep
27 September 2019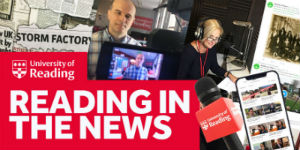 Coronal Mass Ejections: An article in The Sun looks at coronal mass ejections which could bombard the earth with highly charged particles that could disrupt electronics. Prof Chris Scott (Met) is quoted.
Cooling trees: Research on the effect of trees in close proximity to office blocks is covered in the Telegraph. The article mentions that research carried out by the Forestry Commission and UoR showed how nearby trees could reduce air conditioning energy consumption by up to 13%. Read our news story here.
Alcohol-free events: Reading Chronicle report on welcome week and the increase in alcohol-free events over this week. The article also notes that all official University and RUSU events involving alcohol are being hosted on campus.
Other coverage:
New Scientist

print edition cover new research into the rising likelihood of compound storms with climate change.

An article on the difference between professional and amateur road cyclists for Cycling Weekly includes tests carried out in the Hugh Sinclair Unit in the Department of Food and Nutritional Sciences.

BBC South cover comments by Dr Mark Shanahan about mental health support for students.

Weather Channel and SOTT cover the development of a category four Atlantic storm, and quotes visiting research fellow Dr Richard Dixon (Met).
New research on gluten-free diets and health carried out by a team from Sheffield and UoR is covered in Food Navigator.
Food Manufacture report on new guidelines published by the Scientific Advisory Committee on Nutrition about saturated fats and health, and quoted Emeritus Professor Christine Williams (Food).
Reading Chronicle print edition covers calls to review its licence for pheasant shooting. Our full statement is here.

Prof Grace Ioppolo (English) will be speaking at a Shakespeare festival, reports the Beccles Independent.