Reading in the news - Mon 30 Sep
30 September 2019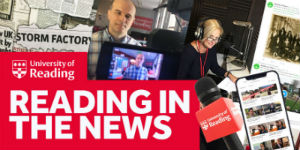 Tree benefits: Mail Online and Business Telegraph report a Forestry Commission and DEFRA study, in collaboration with the University of Reading, that shows planting more trees could replicate the effect of air conditioners.
Student mental health: BBC Radio Berkshire interviewed Dr Mark Shanahan (Politics and International Relations) and Vice-Chancellor Professor Robert Van de Noort about student mental health.
Educating children: English Literature lecturer Kate Clanchy is namechecked by author Philip Pullman, who praised her book on teaching poetry to schoolchildren in a wide-ranging interview with the Observer. Read more about Kate's work with schoolchildren that saw her named in the Queen's birthday honours in 2018 in our news story.
Four-day week: Metro reports on Henley Business School research into the benefits of working four days a week. Read Henley's news story.
Bercow impartiality: The Express mentions Commons Speaker John Bercow's visit to the University in 2017, where he told students he voted for Remain in the EU Referendum. Read more about Bercow's visit in our news story.
Other overage
Independent.com in Malta report on the Henley Business School graduation ceremony, focusing on the large contingent of students from Malta.
PhD student Akshay Deoras (Meteorology) is quoted in the latest article by Times of India on the Monsson season in Mumbai.
BBC Radio Berkshire mentioned plans by students in the University's African and Caribbean Society to welcome students from different backgrounds into the society and other activities for arriving students.
BioEdge quotes Professor David Oderberg (Philosophy) in an article on conscientious objection.
Reading.co.uk report on an upcoming event to launch a new academic book by Dr Simone Knox (FTT) on the TV sitcom Friends. Read our news story.
Get Reading runs a list of things incoming students can expect from studying at Reading, written by a former student.