COVID-19: Rising UK death toll
01 April 2020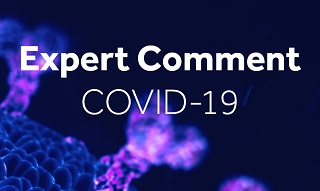 Dr Simon Clarke, an associate professor in cellular microbiology at the University of Reading said:
"The news of a further 381 deaths in hospitals, on the back of a lower than expected increase yesterday, is shocking but sadly unsurprising and we can expect to see the UK's COVID-19 death-toll to continue to head higher over coming weeks. There will be days when the figures are comparatively low, but there will also be days when we see distressingly large increases. It's therefore important to look at trends over a number of consecutive days, rather than draw conclusions from any single day's figures.
"Yesterday, the Chief Scientist presented a number of charts showing the long-term path of the outbreak. While he cautioned against reading too much into the day-to-day figures, he did point out that the UK trajectory was similar to that seen in France, and some people took the low-ish numbers as providing some hope that the UK might be showing signs of successfully flattening the peak of cases.
"Today's terrible uptick in deaths is a reminder that only time will tell if the measures the UK has taken is having enough of an effect to avoid the tragic scenes playing out in Italy and Spain. It also reminds us the importance of sticking to the advice on staying home and avoiding contact with others. We cannot afford to be complacent in the face of this coronavirus."
On the tragic death of a 13 year old boy in the UK, Dr Clarke said:
"Any premature death is tragic news, but the death of a child is particularly sad and the first death of a child in the UK following a positive test for COVID-19 is particularly significant. The lesson from countries such as China is that while the old are much more likely to die from coronavirus infection, the young are certainly not immune from it. Children can catch the virus, and while they are more likely to have mild symptoms, they can still pass it on to others who are more vulnerable. In rare cases, they can also get seriously ill, or die.
"This is a reminder that we must take the advice of health officials seriously to stay at home, wash hands, and keep well away from all other people. The message so far has seemed to be that by following the guidance, you might save the life of a cherished parent or grandparent. This case could yet remind us that staying home could also save the life of a cherished child or grandchild too."